Evaluation of Salivary and Serum Alpha Amylase Level in Dental Caries of Adolescence
Abstract
Objective: Some previous studies suggested a significant relationship between alpha- amylase, and caries formation. This study was implemented in order to investigate the interrelation between level of salivary and serum alpha- amylase and dental caries. Material and Methods: In this cross-sectional investigation, un-stimulated whole saliva  and serum sample was collected from 118 high school students  who were divided to four groups: Caries free female (N= 28), caries active females (N=35), caries free males(N= 28) and caries active males(N= 27). Mean levels of salivary and serum alpha-amylase was assayed by spectrophotometric method to assay enzyme kinetics. Data were analyzed using student's t-test and chi-square test. Results: The results of this study demonstrated  that salivary and Serum alpha- amylase were  significantly   higher in caries active group as compared to carries free group(P = 0.002, P= 0.001 respectively). In addition in male groups the mean salivary and serum alpha -amylase was significantly higher in caries active as compared to caries free (P = 0.002, P = 0.02 respectively) and in   female Groups the mean serum   alpha- amylase was statistically significant higher in caries active as compared to caries free (P = 0.01). Conclusion: The results of this study demonstrated significant association between salivary and serum alpha- amylase in adolescence with dental caries. More research should be done to demonstrate real relation between   alpha amylase and   dental caries.
Keywords
Alpha–amylase; Dental caries; Saliva; Serum.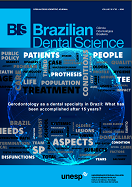 Downloads
Section
Clinical or Laboratorial Research Manuscript
License
COPYRIGHT TRANSFER AND RESPONSIBILITY STATEMENT
 (PDF | Word)
All manuscript's copyright ownership of the article "____________________________________________________________________" is transferred from the author(s) to the BRAZILIAN DENTAL SCIENCE, in the event the work is published. The manuscript has not been published elsewhere and that it has not been submitted simultaneously for publication elsewhere.
We hereby attest the study is original and does not present manipulated data, fraud or plagiarism. We made significant scientific contribution to the study and we are aware of the presented data and in agreement with the final version of the manuscript. We assume complete responsibility for the ethical aspects of the study.
This text must be printed and signed by all authors. The scanned version should be submitted as supplemental file during the submission process.