Calcifying cystic odontogenic tumour associated with odontoma involving mixed dentition
Abstract
The calcifying cystic odontogenic tumor (CCOT) is a benign cystic odontogenic tumor relatively uncommon and may be associated with other odontogenic lesions. This manuscript describes a case of CCOT associated with odontoma in a 9-year-old girl, who presented with a slight swelling along with prolonged retention of a maxillary primary central incisor. Radiographic examination showed a unilocular radiolucent lesion containing radiopaque material, associated with an unerupted tooth. Taking into consideration the clinical diagnostic of odontoma, an excisional biopsy was carried out. Microscopic examination established the diagnosis of a CCOT associated with odontoma. The association of these lesions is rare in individuals in the first decade of life, particularly involving mixed dentition, as outlined in this case. The patient remains under care with no clinical signs of recurrence.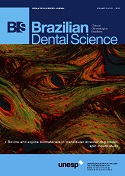 Downloads
Section
Case Report / Clinical Technique Manuscript
License
COPYRIGHT TRANSFER AND RESPONSIBILITY STATEMENT
 (PDF | Word)
All manuscript's copyright ownership of the article "____________________________________________________________________" is transferred from the author(s) to the BRAZILIAN DENTAL SCIENCE, in the event the work is published. The manuscript has not been published elsewhere and that it has not been submitted simultaneously for publication elsewhere.
We hereby attest the study is original and does not present manipulated data, fraud or plagiarism. We made significant scientific contribution to the study and we are aware of the presented data and in agreement with the final version of the manuscript. We assume complete responsibility for the ethical aspects of the study.
This text must be printed and signed by all authors. The scanned version should be submitted as supplemental file during the submission process.