Effects of different polishing systems on the surface roughness of two ceromers
Abstract
Objective: This in vitro study evaluated the effects of three polishing systems on the surface roughness of two ceromers. Material and Methods: 96 specimens (8 mm in diameter and 2 mm thick) were prepared in a metal mold using two restorative materials: CERAMAGE (Shofu, Japan) and VMLC VITA (VITA Zahnfabrik, Germany). The specimens were divided into 4 groups (n=12): G1: positive control, Mylar strip; G2: abrasive tips, Edenta system; G3: silicon tips, Enhance system; and G4: abrasive tips, Shofu system. The parameter evaluated was the average surface roughness (Ra) determined by using a profilometer SJ 301 (Mitutoyo, Japan), followed by photographic evaluation images through Scanning Electron Microscopy (SEM), with a 1000x magnification range. The data was subjected to statistical analysis for comparison between the groups (ANOVA, Tukey and Student T-tests), with a significance level of 5%. Results: there was a statistically significant difference between the silicone tip Enhance and the other groups for both ceromers with higher values of surface roughness. There was no statistically significant difference between the ceromers, except for the Shofu system, which showed lower values of surface roughness for Vita VMLC. Conclusion: Within the limitations of this study, it was concluded that the Edenta and Shofu abrasive tips are more effective in reducing the surface roughness of ceromers compared with the Enhance silicone tip.
Keywords: Resins; Surface roughness; Dental polishing.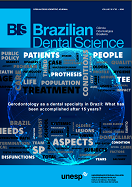 Downloads
Additional Files
Section
Clinical or Laboratorial Research Manuscript
License
COPYRIGHT TRANSFER AND RESPONSIBILITY STATEMENT
 (PDF | Word)
All manuscript's copyright ownership of the article "____________________________________________________________________" is transferred from the author(s) to the BRAZILIAN DENTAL SCIENCE, in the event the work is published. The manuscript has not been published elsewhere and that it has not been submitted simultaneously for publication elsewhere.
We hereby attest the study is original and does not present manipulated data, fraud or plagiarism. We made significant scientific contribution to the study and we are aware of the presented data and in agreement with the final version of the manuscript. We assume complete responsibility for the ethical aspects of the study.
This text must be printed and signed by all authors. The scanned version should be submitted as supplemental file during the submission process.