Wear Behavior of Monolithic Zirconia against Natural Teeth in Comparison to Two Glass Ceramics with two Surface Finishing Protocols: An In-Vitro Study
Abstract
Objective: To evaluate and compare the wear behavior of three different ceramic systems; monolithic zirconia, lithium di-silicate and nano-fluorapatite glass ceramic with two finishing procedures polishing and glazing, and their effect on the wear of natural tooth antagonists. Material and Methods: Forty two ceramic disc specimens (10mm x3mm) and forty two natural tooth antagonists were used. Samples were divided according to ceramic materials into 3 groups (n = 14). Group I: nano-fluorapatite glass ceramic (FLU) (IPS e.max Ceram), Group II: lithium disilicate (LD) (IPS e.max CAD) and group III: monolithic zirconia (ZIR) (ZirkoZahn Prettau). Each group was further subdivided into two subgroups (n = 7), according to the surface finish: Polishing (P) and glazing (G). Specimens were subjected to a custom designed two-body wear simulator. Quantitative wear assessment was carried out using weight loss measurements. Scanning electron microscope was used for characterization of wear patterns. Kruscal Wallis and Dunn's tests were used to compare between weight loss of the three ceramic materials. Whitney U test was used to compare the weight loss between the two surface finish protocols. Wilcoxon Signed rank test was used to compare the weight loss between ceramic specimens and antagonist teeth (p ? 0.05). Paired t-test was used to compare weight loss before and after wear test. Results: After wear, LD and FLU had the highest weight loss values compared to ZIR (p < 0.05). For teeth, there was no significant difference between the weight loss values with the three materials (p > 0.05). P and G specimens showed no significant difference in weight loss values. SEM images of the wear patterns verified the previous analysis. Conclusion: ZIR is more wear resistant than LD and FLU. However, the surface treatment had no impact on the wear behavior.
KEYWORDS
Glass-ceramics; Monolithic; Two-body wear simulation; Wear; Zirconia.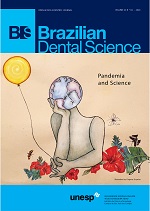 Downloads
Section
Clinical or Laboratorial Research Manuscript
License
COPYRIGHT TRANSFER AND RESPONSIBILITY STATEMENT
 (PDF | Word)
All manuscript's copyright ownership of the article "____________________________________________________________________" is transferred from the author(s) to the BRAZILIAN DENTAL SCIENCE, in the event the work is published. The manuscript has not been published elsewhere and that it has not been submitted simultaneously for publication elsewhere.
We hereby attest the study is original and does not present manipulated data, fraud or plagiarism. We made significant scientific contribution to the study and we are aware of the presented data and in agreement with the final version of the manuscript. We assume complete responsibility for the ethical aspects of the study.
This text must be printed and signed by all authors. The scanned version should be submitted as supplemental file during the submission process.