Influence of cleansing agents on enamel and dentin bond strength to a one-step adhesive system
Abstract
Objective: The aim of this study was to detect the influence of application mode of cleansing agents, on enamel and dentin during the adhesion process of a one-step adhesive system.
Materials and Methods: 24 human molars were sectioned into halves along the long axis for enamel and dentin tests. The cleansing agents used were hydrogen peroxide, anionic detergent, and antiseptic solution. In the experiment, these agents were applied with and without friction on enamel and dentin surfaces. A one-step adhesive system (Clearfil S3 Bond) was applied on dental surface and composite resin cylinders were built using Tygon tubing molds. After 24 h, ?SBS test (1 mm/ min) and fracture analysis were performed. Results: There was no statistically significant difference in bond strength values regarding the application mode of cleansing agents for enamel and dentin (p?0,05).
Conclusions: Regarding bond strength, application mode of the cleansing agents used in this study presented the same behavior.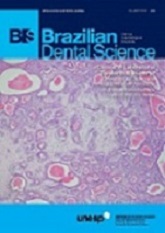 Downloads
Section
Clinical or Laboratorial Research Manuscript