Effect of topical Insulin administration on bone defect healing in diabetic rats
Abstract
Objective: insulin has been reported to possess anabolic effect on bone. Topical application of insulin in bone defects in diabetic rats has not been investigated. The objective of this study was to evaluate histologically the effect of topical administration of insulin for the restoration of tibial bone defects in diabetic rats. Materials and Methods: Sixteen adult male albino diabetic rats were grouped into two equal groups, group I (diabetic control) which had not received any graft, group II (experimental) which was diabetic and had received topical insulin loaded on PVP (Polyvinylpyrrolidone). Specimens were harvested on days seven and twenty eight days after surgical procedures, prepared and examined histologically by H&E (haematoxylin and eosin) stain, there were wide histological differences between the groups of this study along the different intervals of the study.Results:The histological results demonstrated that there was obvious retardation in resolving the inflammatory phase, organization of the blood clot and bone formation in the diabetic control group I than the experimental group II along the different intervals of this study. Moreover, there was great acceleration in granulation tissue formation, organization and bone formation in experimental group II which received the insulin PVP. Discussion: The enhancement in bone healing process was due to the effect of insulin which accelerates the bone regeneration by means of inflammation resolve, angiogenesis, proliferation and successive differentiation of mesenchymal cells. Conclusion: Topical applications of insulin in bone defects enhance new bone formation in diabetic rats.
KEYWORDS
Insulin; Bone defect; Tibia; Diabetes; Rats.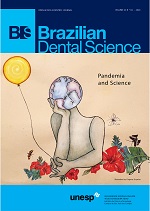 Downloads
Additional Files
Section
Clinical or Laboratorial Research Manuscript
License
COPYRIGHT TRANSFER AND RESPONSIBILITY STATEMENT
 (PDF | Word)
All manuscript's copyright ownership of the article "____________________________________________________________________" is transferred from the author(s) to the BRAZILIAN DENTAL SCIENCE, in the event the work is published. The manuscript has not been published elsewhere and that it has not been submitted simultaneously for publication elsewhere.
We hereby attest the study is original and does not present manipulated data, fraud or plagiarism. We made significant scientific contribution to the study and we are aware of the presented data and in agreement with the final version of the manuscript. We assume complete responsibility for the ethical aspects of the study.
This text must be printed and signed by all authors. The scanned version should be submitted as supplemental file during the submission process.