Effect of the photoinitiator system on the properties of a dental material based on a hybrid polymer
Abstract
Objective: In this study, the effects of two different cure protocols upon the properties of composites using a hybrid-polymer as dental resin were evaluated. Material and Methods: Two distinct dental composites were prepared, one containing a mixture of TEGDMA/bis-GMA (50:50) and, another containing a mixture of TEGDMA/p-MEMO (50:50), [p-MEMO: oligomeric inorganic precursor]. Both composites were polymerized with lucirin and canphorquinone as photoinitiators. The composites were made with a 70 % wt of inorganic filler. Flexural strength was evaluated with a universal test machine and the degree of conversion was measured by infrared spectroscopy. A helium pycnometer was used to obtain polymer shrinkage data. Sorption tests were performed and SEM microscopy was used to show deleterious effects upon the resins' surfaces. Results: The sample base on TEGDMA/p-MEMO polymerized with lucirin (L-T/p) showed the best values of the monitored properties. Conclusion: Lucirin is the most suitable photoinitiator for dental composites containing hybrid polymers.
Keywords
Dental resins; Flexural strength; Hybrid polymer; Photoinitiator system; Polymerization shrinkage.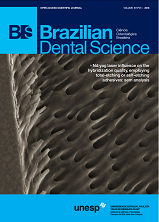 Downloads
Section
Clinical or Laboratorial Research Manuscript
License
COPYRIGHT TRANSFER AND RESPONSIBILITY STATEMENT
 (PDF | Word)
All manuscript's copyright ownership of the article "____________________________________________________________________" is transferred from the author(s) to the BRAZILIAN DENTAL SCIENCE, in the event the work is published. The manuscript has not been published elsewhere and that it has not been submitted simultaneously for publication elsewhere.
We hereby attest the study is original and does not present manipulated data, fraud or plagiarism. We made significant scientific contribution to the study and we are aware of the presented data and in agreement with the final version of the manuscript. We assume complete responsibility for the ethical aspects of the study.
This text must be printed and signed by all authors. The scanned version should be submitted as supplemental file during the submission process.