The importance of the dentist in the diagnosis of Cowden syndrome: case report
Abstract
Cowden Syndrome is an autosomal dominant disorder characterized by the development of several hamartomas in a variety of tissues, including the skin, gastrointestinal tract, adipose tissue, and bone and connective tissues. This syndrome is associated with a high risk of developing malignancies, especially breast, thyroid and endometrium cancers. This report presents a case of a 53-year-old patient who sought assistance at the Dentistry Department of the University Hospital of Brasilia (HUB) to receive basic dental treatment. The current and past medical history and oral and facial manifestations led to the diagnosis of Cowden syndrome. This case report aims to highlight the importance of a dental surgeon in the diagnosis of this syndrome, based on the observation of oral manifestations and medical history.
Keywords
Cowden Syndrome; Multiple Hamartoma Syndrome.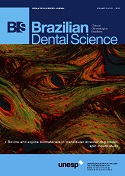 Downloads
Section
Case Report / Clinical Technique Manuscript
License
COPYRIGHT TRANSFER AND RESPONSIBILITY STATEMENT
 (PDF | Word)
All manuscript's copyright ownership of the article "____________________________________________________________________" is transferred from the author(s) to the BRAZILIAN DENTAL SCIENCE, in the event the work is published. The manuscript has not been published elsewhere and that it has not been submitted simultaneously for publication elsewhere.
We hereby attest the study is original and does not present manipulated data, fraud or plagiarism. We made significant scientific contribution to the study and we are aware of the presented data and in agreement with the final version of the manuscript. We assume complete responsibility for the ethical aspects of the study.
This text must be printed and signed by all authors. The scanned version should be submitted as supplemental file during the submission process.