Effect of Polyethylene Terephthalate Tongue Scraper on Oral Levels of Volatile Sulfur Compounds: a randomized clinical trial
Abstract
Objective: To evaluate the effect of Polyethylene Terephthalate (PET) tongue scraper on the volatile sulfur compound (VSC) levels. Material and Methods: A randomized, controlled, parallel design was used in this study. Out of the 48 volunteers from Dentistry Department of the Federal University of Sergipe, 40 subjects who met the inclusion criteria were randomly divided into 4 groups (n=10): G1 (control), rinsing of distilled water solution (WS); G2, WS and tongue coating removal (TCR) with toothbrush; G3, WS and TCR with a commercial tongue scraper; and G4, WS and TCR with PET tongue scraper. PET bottles were cut with a rectangular shape (1.0 cm wide x 20 cm long) to obtain PET tongue scraper. The VSC measurements were performed before (T0) and immediately after (T1) each therapy by portable sulfide monitor. Data (ppb) were submitted to Wilcoxon test (?=0.05). The differences between T0 and T1 were calculated and percentage values were assigned. Data (percentage) were submitted to ANOVA and Tukey test (?=0.05). Results: All 40 selected subjects completed the study. All groups reduced significantly the VSC levels after therapy (P<0.01). ANOVA indicated a significant difference among groups (P<0.001). The Tukey test showed that G1 (reduction of 21%) was similar to G2 (31%); G2 was similar to G3 (42%) and different from G4 (52%); G3 and G4 were similar. Conclusion: PET tongue scraper was similar to commercial tongue scraper and provided higher reductions of VSC levels than the toothbrush.
Keywords
Halitosis; Polyethylene terephthalates; Sulfur compounds; Tongue.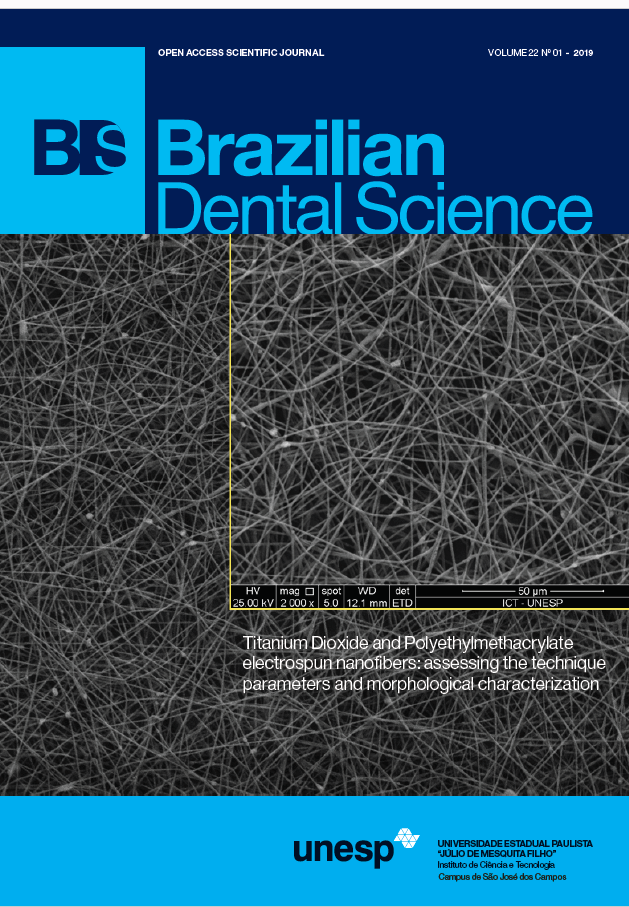 Downloads
Section
Clinical or Laboratorial Research Manuscript
License
COPYRIGHT TRANSFER AND RESPONSIBILITY STATEMENT
 (PDF | Word)
All manuscript's copyright ownership of the article "____________________________________________________________________" is transferred from the author(s) to the BRAZILIAN DENTAL SCIENCE, in the event the work is published. The manuscript has not been published elsewhere and that it has not been submitted simultaneously for publication elsewhere.
We hereby attest the study is original and does not present manipulated data, fraud or plagiarism. We made significant scientific contribution to the study and we are aware of the presented data and in agreement with the final version of the manuscript. We assume complete responsibility for the ethical aspects of the study.
This text must be printed and signed by all authors. The scanned version should be submitted as supplemental file during the submission process.