Comparison of two oral health-related quality-of-life measures in elderly patients: the influence of missing teeth, and socio demographic factors
Abstract
Objective: The Oral Health Impact Profile-14 (OHIP- 14) and the Geriatric/General Oral Health Assessment Index (GOHAI) have never been compared to a group of the same subjects in the Brazilian population. The aim of the study was to compare the OHIP-14 and GOHAI measures. Material and Methods: 129 independently living people over the age of 60 were included in the study. The GOHAI and OHIP-14 measures were used. Other variables were included: age, gender, education, number of missing teeth, annual household income and frequency of dentist visits. Results: The mean age of respondents was 65 years. The internal reliability (Cronbach's alpha) showed a high internal consistency for both measures. Spearman's rank correlation coefficient between the GOHAI and OHIP-14 scores was 0.73. Using the additive method of creating scores, none of the respondents had the GOHAI score of zero, indicating no impact from oral conditions, while 9.3% of them had an OHIP-14 score of zero. Dental status, age, gendler and frequency of dental visit were significantly associated with the results ofthe GOHAI and the OHIP-14 (Kruskal–Wallis test, Mann–Whitney U test). Conclusions: There was a strong correlation between the GOHAI and the OHIP- 14. Both instruments demonstrated good discriminant properties and helped capture the respondents' oral health problems.
KEYWORDS
Brazil; Older adult; GOHAI; Oral health-related quality of life.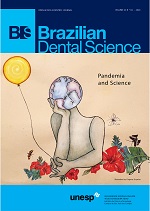 Downloads
Section
Clinical or Laboratorial Research Manuscript
License
COPYRIGHT TRANSFER AND RESPONSIBILITY STATEMENT
 (PDF | Word)
All manuscript's copyright ownership of the article "____________________________________________________________________" is transferred from the author(s) to the BRAZILIAN DENTAL SCIENCE, in the event the work is published. The manuscript has not been published elsewhere and that it has not been submitted simultaneously for publication elsewhere.
We hereby attest the study is original and does not present manipulated data, fraud or plagiarism. We made significant scientific contribution to the study and we are aware of the presented data and in agreement with the final version of the manuscript. We assume complete responsibility for the ethical aspects of the study.
This text must be printed and signed by all authors. The scanned version should be submitted as supplemental file during the submission process.