Torque produzido por quatro torquímetros diferentes utilizados em próteses sobre implantes. Estudo comparativo
Abstract
No presente estudo in vitro, avaliou-se a quantidade de torque gerada pelos torquímetros: Nobelpharma de 20 e 32 N/cm (Nobel Biocare / Sweden) (1A e 1B), Torque Driver 3I de 20 e 32 N/cm (Implant Innovations / USA) (2A e 2B), Torque-Lock em 20 30 N/cm (Intra-Lock / USA) (3A e 3B) e Dyna de 20 e 30 N/cm (Dyna Torq / USA) (4A e 4B), em dez parafusos UCLA titânio (3I implants innovations REF UNIH / USA T). Mediu-se a quantidade de torque necessária para o afrouxamento do parafuso após o torque com cada torquímetro, utilizando-se um medidor analógico de torque (TOHNICHI BTG60CN / JAPAN). Os resultados mostraram diferenças estatisticamente significantes nos torquímetros 1A e 2A com os torquímetros 3A e 4A. Houve também diferenças estatisticamente significantes entre os torquímetros 1B e 2 B, assim como entre os torquímetros 3B e 4B. Alem disso, encontraram-se diferenças no torque produzido e o torque programado nos torquímetros 3A e 3B, e 4A e 4B, concluindo-se que os torquímetros eletrônico Nobelpharma e 3I de 20 e 32 N/cm geram a quantidade de torque para a qual são programados enquanto que os torquímetros Torque Lock e Dyna de 20 e 30 N/cm não geram a quantidade de torque para o qual são programados.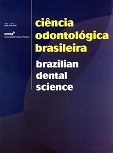 Downloads
Section
Clinical or Laboratorial Research Manuscript
License
COPYRIGHT TRANSFER AND RESPONSIBILITY STATEMENT
 (PDF | Word)
All manuscript's copyright ownership of the article "____________________________________________________________________" is transferred from the author(s) to the BRAZILIAN DENTAL SCIENCE, in the event the work is published. The manuscript has not been published elsewhere and that it has not been submitted simultaneously for publication elsewhere.
We hereby attest the study is original and does not present manipulated data, fraud or plagiarism. We made significant scientific contribution to the study and we are aware of the presented data and in agreement with the final version of the manuscript. We assume complete responsibility for the ethical aspects of the study.
This text must be printed and signed by all authors. The scanned version should be submitted as supplemental file during the submission process.