Capacidade de ação solvente do eucaliptol e xilol sobre diferentes cimentos endodônticos
Abstract
A remoção de material obturador durante o retratamento endodônico pode dificultar a limpeza dos canais radiculares. Este estudo teve como objetivo a avaliação da capacidade solvente do eucaliptol e xilol sobre cinco cimentos obturadores. Os materiais avaliados foram: AH Plus, Intrafill e os novos cimentos Roeko Seal (à base de silicone), Epiphany e Endo-Rez (à base de resina). Foram confeccionados corpos-de-prova circulares com 10 mm de diâmetro e 1 mm de espessura para cada cimento, os quais foram mantidos em estufa a 37oC por 48 h e depois divididos em 4 partes. Cada corpo-de-prova foi mantido em estufa e pesado em balança de precisão a cada 24 h até a estabilização da massa, quando a massa inicial foi determinada. Em seguida, os corpos-de-prova (n=8) foram imersos por 10 minutos nas soluções solventes avaliadas (eucaliptol e xilol). Depois de 48 h em estufa a 37ºC, foram realizadas novas pesagens a cada 24 h, até a estabilização (massa final). A diferença das massas final e inicial determinou a capacidade solvente sobre cada material. Os dados obtidos foram submetidos à análise de variância (????=0,05) demonstrando maior ação solvente do eucaliptol sobre o Intrafill, seguido pelo Epiphany e menor atuação sobre o AH Plus e Endo-Rez (p<0,05). O xilol apresentou maior ação solvente sobre o Intrafill e menor atuação sobre o AH Plus e o Endo-Rez (p<0,05). Conclui-se que os solventes eucaliptol e xilol apresentam pouca ação sobre os cimentos AH Plus e Endo-Rez, sendo mais efetivos sobre o cimento Intrafill.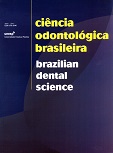 Downloads
Section
Clinical or Laboratorial Research Manuscript
License
COPYRIGHT TRANSFER AND RESPONSIBILITY STATEMENT
 (PDF | Word)
All manuscript's copyright ownership of the article "____________________________________________________________________" is transferred from the author(s) to the BRAZILIAN DENTAL SCIENCE, in the event the work is published. The manuscript has not been published elsewhere and that it has not been submitted simultaneously for publication elsewhere.
We hereby attest the study is original and does not present manipulated data, fraud or plagiarism. We made significant scientific contribution to the study and we are aware of the presented data and in agreement with the final version of the manuscript. We assume complete responsibility for the ethical aspects of the study.
This text must be printed and signed by all authors. The scanned version should be submitted as supplemental file during the submission process.