Estudo fotomicrográfico do desgaste de pontas diamantadas em diferentes substratos
Abstract
Foi avaliado, por meio de fotomicrografias, o desgaste de pontas diamantadas utilizando-se dois tipos de dentes: humano e bovino. Para isso, foi realizado um estudo in vitro com 72 dentes, sendo 36 molares humanos e 36 incisivos centrais bovinos. Realizaram-se desgastes na superfície de esmalte dos dentes com pontas diamantadas da marca KG Sorensen nº1092 totalizando 12 minutos de desgaste por dente. As pontas foram limpas com escova de aço e água e analisadas e fotografadas em lupa estereoscópica a cada totalização de tempo (12 minutos) e retornaram aos experimentos anteriores até completarem 72 minutos de uso por ponta diamantada. As fotomicrografias foram analisadas por três profissionais especializados onde foram atribuídos escores de 0 a 2 conforme a característica de sua ponta ativa. Os dados foram tabulados em Excel 2000 e foi ajustada uma regressão linear. O resultado encontrado mostra que no dente bovino a regressão foi de Y=0,133333+0,036111X e no humano, Y=0,233333+0,038889X, o que indica uma diminuição 7% mais rápida do número de diamantes das pontas usadas nos dentes humanos em relação às usadas nos bovinos, e também que as pontas perderam efetividade de corte a partir dos 48 minutos de uso em dentes humanos e 60 minutos em bovinos. Concluiu-se que o desgaste das pontas diamantadas em dentes humanos ocorre com menor tempo de uso, e que os dentes humanos são diferentes dos dentes bovinos com relação à resistência ao desgaste.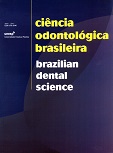 Downloads
Section
Clinical or Laboratorial Research Manuscript
License
COPYRIGHT TRANSFER AND RESPONSIBILITY STATEMENT
 (PDF | Word)
All manuscript's copyright ownership of the article "____________________________________________________________________" is transferred from the author(s) to the BRAZILIAN DENTAL SCIENCE, in the event the work is published. The manuscript has not been published elsewhere and that it has not been submitted simultaneously for publication elsewhere.
We hereby attest the study is original and does not present manipulated data, fraud or plagiarism. We made significant scientific contribution to the study and we are aware of the presented data and in agreement with the final version of the manuscript. We assume complete responsibility for the ethical aspects of the study.
This text must be printed and signed by all authors. The scanned version should be submitted as supplemental file during the submission process.