Efeitos de 03 dietas alcoólicas na reparação óssea em tíbia de ratos
Abstract
Os efeitos do uso abusivo e prolongado do álcool sobre vários tecidos, incluindo o ósseo, têm sido amplamente estudados. A quantidade de defeitos ósseos criados cirurgicamente e pelos vários tipos de acidentes tem aumentado e existe uma preocupação muito grande quanto ao reparo desses defeitos, associados ao alcoolismo. O objetivo desta pesquisa foi de observar histologicamente os efeitos de 03 dietas alcoólicas na reparação óssea e se o aumento da concentração do álcool também interfere neste fenômeno. Foram utilizados 64 ratos machos (Rattus norvegicus), divididos em 4 grupos de 16 animais cada, assim distribuídos: Grupo controle (C) – animais que não receberam álcool; Grupos Experimentais I, II e III (EI, EII e EIII, respectivamente) - animais que foram submetidos à alcoolização de 6%, 15% e 25% respectivamente, por um período de 90 dias. Após este período a tíbia esquerda de todos os animais foi submetida a uma cirurgia onde se realizou uma cavidade no sentido longitudinal. Quatro animais de cada grupo foram sacrificados em períodos de 10, 20, 40 e 60 dias contados a partir do dia da cirurgia experimental. As tíbias foram retiradas, processadas histologicamente e submetidas às colorações de HE e tricrômico de Masson. Os resultados mostraram que a neoformação óssea foi decrescente de acordo com o aumento da concentração alcoólica e pode-se concluir que as 03 dietas alcoólicas (6%, 15% e 25%) influenciam a neoformação óssea em todas as suas fases, retardando o processo de reparação óssea.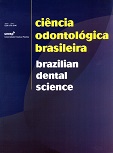 Downloads
Section
Clinical or Laboratorial Research Manuscript
License
COPYRIGHT TRANSFER AND RESPONSIBILITY STATEMENT
 (PDF | Word)
All manuscript's copyright ownership of the article "____________________________________________________________________" is transferred from the author(s) to the BRAZILIAN DENTAL SCIENCE, in the event the work is published. The manuscript has not been published elsewhere and that it has not been submitted simultaneously for publication elsewhere.
We hereby attest the study is original and does not present manipulated data, fraud or plagiarism. We made significant scientific contribution to the study and we are aware of the presented data and in agreement with the final version of the manuscript. We assume complete responsibility for the ethical aspects of the study.
This text must be printed and signed by all authors. The scanned version should be submitted as supplemental file during the submission process.