EDS analysis of gutta-percha cones disinfected by 1% and 2.5% sodium hypochlorite solutions
Abstract
Objective: To evaluate the effects of 1% and 2.5% sodium hypochlorite (NaOCl) solutions at different periods of time on the composition of gutta-percha cones using Energy Dispersive Spectroscopy (EDS).
Material and Methods: 110 master gutta-percha points were divided into 3 control groups and 8 experimental groups. Cones were immersed in 1% and 2.5% NaOCl for 30 minutes, 6, 12, 24 hours. Then, composition of the samples was analyzed by EDS. Statistical analysis was performed using the ANOVA and Tukey tests (p<0.05).
Results: There was an increase of oxygen in experimental groups, and decrease of zinc when NaOCl was used, concentration and time-dependent.
Conclusions: The disinfection with NaOCl solution causes alterations in the composition of gutta-percha cones. These modifications in gutta-percha structure might change important characteristics, increasing the risk of leakage and consequently failure of root canal treatment.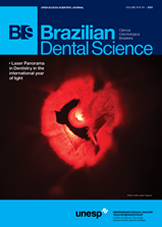 Downloads
Additional Files
Section
Clinical or Laboratorial Research Manuscript
License
COPYRIGHT TRANSFER AND RESPONSIBILITY STATEMENT
 (PDF | Word)
All manuscript's copyright ownership of the article "____________________________________________________________________" is transferred from the author(s) to the BRAZILIAN DENTAL SCIENCE, in the event the work is published. The manuscript has not been published elsewhere and that it has not been submitted simultaneously for publication elsewhere.
We hereby attest the study is original and does not present manipulated data, fraud or plagiarism. We made significant scientific contribution to the study and we are aware of the presented data and in agreement with the final version of the manuscript. We assume complete responsibility for the ethical aspects of the study.
This text must be printed and signed by all authors. The scanned version should be submitted as supplemental file during the submission process.