Effects of different degrees of acidity and concentration of bleaching agents on human enamel mineral content and surface morphology over time
Abstract
Objective: The aim of this study was to evaluate the effect of pH and concentration of bleaching agents on the mineral content and surface morphology of human dental enamel for 14 days. Material and Methods: Eighty human central incisors were randomly divided into 8 groups (n=10): G1-7.5% hydrogen peroxide/pH=9.0; G2–9.5% hydrogen peroxide/pH=9.0; G3-7.5% hydrogen peroxide/pH=7.0; G4-9.5% hydrogen peroxide/pH=7.0; G5-10% carbamide peroxide/pH=5.0; G6-16% carbamide peroxide/pH=5.0; G7-37% phosphoric acid 15s (positive control); G8-no treatment (negative control). The mineral analysis of the bleaching gel collected was assessed by ICP-AES and surface morphology was observed by SEM. Results: Friedman and Dunn's statistical test demonstrated significant differences among the proposed treatments (p<0.01). No significant difference was found among groups treated with hydrogen peroxide (G1, G2, G3, and G4) or among groups G5, G6 and G7 (p>0.01). However, the latter groups showed significantly higher values as compared to groups G1, G2, G3 and G4 (p<0.01). Conclusion: Alteration in enamel mineral content may not be influenced by concentration when bleaching agents with the same pH are compared. The most apparent alterations in mineral content and surface morphology may be noted when more acidic products are used. The daily mineral content measurement may not be influenced by repeated applications of bleaching agents.
Keywords
Dental bleaching; Mineral content; Enamel; Peroxide; Demineralization; pH.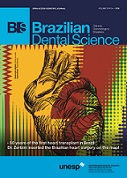 Downloads
Section
Clinical or Laboratorial Research Manuscript
License
COPYRIGHT TRANSFER AND RESPONSIBILITY STATEMENT
 (PDF | Word)
All manuscript's copyright ownership of the article "____________________________________________________________________" is transferred from the author(s) to the BRAZILIAN DENTAL SCIENCE, in the event the work is published. The manuscript has not been published elsewhere and that it has not been submitted simultaneously for publication elsewhere.
We hereby attest the study is original and does not present manipulated data, fraud or plagiarism. We made significant scientific contribution to the study and we are aware of the presented data and in agreement with the final version of the manuscript. We assume complete responsibility for the ethical aspects of the study.
This text must be printed and signed by all authors. The scanned version should be submitted as supplemental file during the submission process.