Evaluating Cytotoxic Effects of Highly Esthetic Dental Composites
Abstract
Amaç: Di? hekimli?i alan?nda nanoteknoloji alan?nda odakl? di? kompozitler, ön ve arka di?lerin oldu?u yerlerde yayg?n olarak yap?l?r. L929 fare fibroblast sitotoksik oldu?u için in vitro ekstrakt test yöntemi ile ara?t?r?ld?.
Gereç ve Yöntemler: Steril bir dolapta cam moddaki led ???k cihaz?yla polimerle?tirilerek 8x2 mm çap?nda kompozit numuneler haz?rland?. Kompozit numuneler yüzey plakalar? (3 cm ISO standartlar?na göre 2 / ml hesapland? ), 37 ° C s?cakl?kta, 24 ve 72 saat süre ile inkübe edildi O C. Hücre canl?l???, 3- [4,5-dimetiltiyazol-2-il ile de?erlendirildi] -2,5-difeniltetrazolyum bromür (MTT) deneyi ve hücre ölümü laktat dehidrojenaz (LDH) s?z?nt? deneyi ile de?erlendirildi.
Sonuçlar: 24 saatin sonunda kompozitlerin 1: 1 ekstraktlar? (nanoseramik kompozit hariç) toksik etki göstermedi. Kompozit numunelerin 1: 1 ekstrelerinin hücre canl?l??? sonuçlar?, 72 saat sonra analiz edilece?i halde, kontrol grubuna göre anlaml? farkl?l?klar bulundu (p <0.05).
Sonuç: Dolgu tipinin ve boyutunun kompozitlerin toksisitesinde etkili olmas? ve organik matrikslerde Bis-GMA, TEGDMA, UDMA ve Bis EMA monomerlerini içeren kompozitlerin istenildi?i yerde canl? canl?l??? (% 70) gösterdi?i görülmektedir. ISO taraf?ndan söyildi. Orada birlikte, organik matrislerinde PEGDMA ve BPA monomerlerine sahip olan, sahip olan kompozitler,% 70'in oldu?u kabul edilebilir seviyesinin alt?nda olan ve toksik olan bir ve Türkiye'nin sahip ve zay?f ortamdaki canl?l??? vard?r.
References
Ferracane JL. Current trends in dental composites. Crit Rev Oral Biol Med. 1995 Oct; 6(4):302-8.
Ferracane JL. Resin composite-state of the art. Dent Mater. 2011 Jan;27(1):29-8.
Curtis AR, Palin WM, Fleming GJ, Shortall ACC, Marquis PM. The mechanical properties of nanofilled resin-basedcomposites: the impact of dry and wet cyclic pre-loading onbi-axial flexure strength. Dent Mater. 2009 Feb; 25(2):188-7.
Kim KH, Ong JL, Okuno O. The effect of filler loading andmorphology on the mechanical properties of contemporarycomposites. J Prosthet Dent. 2002 Jun; 87(6):642-9.
Scougall-Vilchis RJ, Hotta Y, Hotta M, Idono T, Yamamoto K. Examination of composite resins with electron microscopy, microhardness tester and energy dispersive x-raymicroanalyzer. Dent Mater J. 2009 Jun; 28(1):102-12.
Sunnegardh-Gronberg K, Van Dijken JW, Funegard U, Lindberg A, Nilsson M. Selection of dental materials and longevity of replaced restorations in Public Dental Health clinics in northern Sweden. J Dent. 2009 Sep; 37(9):673-8.
Eckhardt A, Harorli T, Limtanyakul J, Hiller KA, Bosl C, Bolay C et al. Inhibition of cytokine and surface antigenexpression in LPS-stimulated murine macrophages bytriethylene glycol dimethacrylate. Biomaterials 2009 Marc; 30(9):1665-74.
Geurtsen W. Biocompatibility of resin-modified filling materials. Critical Reviews in Oral Biology &Medicine. 2000 July; 11 (3): 333-55.
Ferracane J. Elution of leachable components from composites. Journal of Oral Rehabilitation. 1994 July; 21(4): 441-52.
Fugolin APP, Pfeifer CS. New Resins for Dental Composites. J. Dent. Res. 2017 Sep:96(10); 1085- 91. doi: 10.1177/0022034517720658. Epub 2017 Jul 21.
Li YC, Kuan YH, Huang FM, Chang YC. The role of DNA damage and caspase activation in cytotoxicity andgenotoxicity of macrophages induced by bisphenol-A-glycidyldimethacrylate. Int Endod J. 2012 Jun; 45(6):499-07.
Lee DH, Lim BS, Lee YK, Ahn SJ, Yang HC. Involvement ofoxidative stress in mutagenicity and apoptosis caused by dental resin monomers in cell cultures. Dent Mater. 2006 Dec; 22(12):1086–92.
Schweikl H, Spagnuolo G, Schmalz G. Genetic and cellular toxicology of dental resin monomers. J Dent Res. 2006 Oct; 85(10):870-7.
ISO 10993-5:2009. Biological evaluation of medical devices. Part 5: Tests for in vitro cytotoxicity. 2009
Murray PE, García Godoy C, García Godoy F. How is the biocompatibilty of dental biomaterials evaluated? Med Oral Patol Oral Cir Bucal 2007 May;12(3): E258-66.
ISO 10993-12:2012. Biological evaluation of medical devices. Part 12: Sample preparation and reference materials, 2012
Lim SM, Yap AUJ, Loo CSL, Ng J, Goh CY, CHL Hong CHL, Toh WS. Comparison of cytotoxicity test models for evaluating resin-based composites Human and Experimental Toxicology. 2016 May;1–10.
Saw TY, Cao T, Yap AUJ, & Lee Ng MM. Tooth slice organ culture and established cell line culture models for cytotoxicity assessment of dental materials. Toxicology In Vitro. 2005 Feb;19(1) :145-54. doi.org/10.1016/j.tiv.2004.08.006
Cao T, Saw TY, Heng BC, Liu H, Yap AU, Ng ML. Comparison of different test models for the assessment of cytotoxicity of composite resins. J Appl Toxicol. 2005 Marc; 25(2):101-08.
Pulgar R, Olea-Serrano MF, Novillo-Fertrell A, Rivas A, Pazos P, Pedraza V. et al. Determination of bisphenol A and related aromatic compounds released from bis-GMA-based composites and sealants by high performance liquid chromatography. Environ Health Perspect. 2000Jan;108:21-7. doi.org/10.1289/ehp.0010821
Caughman WF, Caughman GB, Shiflett RA, Rueggeberg F, Schuster GS. Correlation of cytotoxicity, filler loading and curing time of dental composites. Biomaterials. 1991 Oct; 12(8):737-40.
Van Landuyt KL, Nawrot T, Geebelen B, De Munck J, Snauwaert J, Yoshihara K. et al. How much do resin-based dental materials release? A meta-analytical approach. Dental Materials, 2011 Aug: 27(8): 723–47.
Schubert A, Ziegler C, Bernhard A, Bürgers R, Miosge N. Cytotoxic effects to mouse and human gingival fibroblasts of a nanohybrid ormocer versus dimethacrylate-based composites. Clinical Oral Investigations. 2019 Jan; 23(1):133-39
Franz A, König F, Anglmayer M, Rausch-Fan X, Gille G, Rausch WD,Lucas T, Sperr W, Schedle A. Cytotoxic effects of packable and nonpackable dental composites. Dent. Mater. 2003; 19: 382-92.
Manhart J, Kunzelmann KH, Chen HY, Hickel R. Mechanical properties of new composite restorative materials. J Biomed Mater Res. 2000 July; 53 (5):353-61.
Thomé T, Steagall W Jr, Tachibana A, Braga SR, Turbino ML. Influence of the distance of the curing light source and composite shade on hardness of two composites. J Appl Oral Sci. 2007 Nov; 15(6):486-91.
Ergun G, Egilmez F, Cekic-Nagas I. The cytotoxicity of resin composites cured with three light curing units at different curing distances. Med Oral Patol Oral Cir Bucal. 2011Mar;16(2) :e252-9. doi:10.4317/medoral.16.e252
Harorli OT, Bayindir YZ, Altunkaynak Z, Tatar A. Cytotoxic effects of TEGDMA on THP-1 cells in vitro. Med Oral Patol Oral Cir Bucal. 2009 Sep;14(9):e489-93.
Moharamzadeh K, Noort RV, Brook IM, Scutt AM. Cytotoxicity of resin monomers on human gingival fibroblasts and HaCaT keratinocytes. Dent Mater. 2007 Jan; 23(1): 40-4.
Franz A, Konradsson K, Konig F, Van Dijken JW, Schedle A. Cytotoxicity of a calcium aluminate cement in comparison with other dental cements and resin-based materials. Acta Odontol Scand. 2006 Mar; 64(1): 1-8.
Jerg A, Schulz SD, Tomakidi P, Hellwig E, Polydorou O. Modulation of gingival cell response towards dental composites. Dental Materials. 2018 Mar;34(3): 412-26.
Polydorou O, König A, Hellwig E, Kümmerer K. Long-term release of monomers from modern dental-composite materials. European Journal of Oral Sciences. 2009 Jan;117(1): 68-75.
Manojlovik D, Radisic M, Vasiljevik T, Zivkovik S, Lausevic M, Miletic V. Monomer elution from nanohybrid and ormocer-based composites cured with different light sources. Dent Mater. 2011 April ;27(4): 371-78. doi:10.1016/j.dental.2010.11.017
Susila Anand V, Balasubramanian V. Effect of resin chemistry on depth of cure and cytotoxicity of dental resin composites. Materials Science and Engineering: B. 2014 Feb;181: 33-38.
Ferracane JL, Condon JR. Rate of elution of leachable components from composite. Dent Mater. 1990 Oct;6(4): 282-87. doi.org/10.1016/S0109-5641(05)80012-0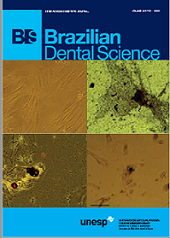 Downloads
Section
Clinical or Laboratorial Research Manuscript