Influência da experiência profissional no diagnóstico radiográfico de cáries
Abstract
O objetivo neste trabalho foi avaliar a influência do treinamento e da experiência do examinador no diagnóstico radiográfico de cáries proximais. Para isso, oitenta dentes hígidos ou portadores de lesões cariosas nas faces proximais foram selecionados para a montagem de phantoms, dos quais foram obtidas radiografias interproximais. Estas radiografias foram avaliadas quanto à presença de cáries, por três examinadores. O primeiro examinador realizou duas avaliações: uma antes de iniciar a disciplina de Radiologia, assistindo apenas a uma aula sobre diagnóstico de cáries (treinamento teórico), e outra após seis meses, quando concluiu a disciplina. O segundo examinador avaliou as radiografias apenas após ter cursado a disciplina. O terceiro foi um radiologista. Os dentes foram seccionados e analisados microscopicamente (padrão-ouro). Para cada avaliação foram determinados os índices de sensibilidade, especificidade e acurácia. O teste Kappa foi utilizado para avaliar a concordância intra e interexaminador. Os resultados indicaram que na avaliação inicial do primeiro examinador a sensibilidade foi 0,72 e a especificidade 0,25, indicando um alto número de respostas falso-positivas. Após o curso de Radiologia, os resultados foram semelhantes para os dois alunos. O especialista apresentou os maiores valores de especificidade (0,85) e acurácia (0,69). Os valores Kappa indicaram uma concordância variando de muito leve a moderada. Concluiu-se que a experiência do examinador influenciou no diagnóstico radiográfico da cárie dentária: com o aumento do conhecimento houve uma redução dos resultados falso-negativos e um aumento da acurácia.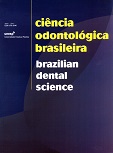 Downloads
Section
Clinical or Laboratorial Research Manuscript
License
COPYRIGHT TRANSFER AND RESPONSIBILITY STATEMENT
 (PDF | Word)
All manuscript's copyright ownership of the article "____________________________________________________________________" is transferred from the author(s) to the BRAZILIAN DENTAL SCIENCE, in the event the work is published. The manuscript has not been published elsewhere and that it has not been submitted simultaneously for publication elsewhere.
We hereby attest the study is original and does not present manipulated data, fraud or plagiarism. We made significant scientific contribution to the study and we are aware of the presented data and in agreement with the final version of the manuscript. We assume complete responsibility for the ethical aspects of the study.
This text must be printed and signed by all authors. The scanned version should be submitted as supplemental file during the submission process.