Delayed tooth replantation after treatment of necrotic periodontal ligament with citric acid
Abstract
Objective: to evaluated the effect of treating root-adhered necrotic periodontal ligament (PDL) with citric acid on the healing process in delayed rat tooth replantation.
Material and Methods: Forty Wistar rats, assigned to 4 groups (n=10), had their upper right incisor extracted and kept dry on a workbench. For Group I (control), the teeth were replanted after a 5-min extra-alveolar time. For the other groups, replantation was done after 60 min. In Group II, the root canals were filled with a calcium hydroxide-based paste and the teeth were replanted with no root surface treatment. In Group III, the teeth were immersed in citric acid (pH 1) for 3 min, the canals were filled with calcium hydroxide and the teeth were replanted. In Group IV, instead of the immersion, the roots were scrubbed with gauze soaked in citric acid and the teeth were replanted. The animals were sacrificed 60 days postoperatively.
Results: Regarding replacement resorption, there was statistically significant difference (p<0.05) between the control group and the other three groups. No statistically significant difference (p>0.05) was found among the groups regarding the areas of inflammatory resorption. There was also a statistically significant difference (p<0.05) between the control group and Group IV regarding ankylosis. The control group showed the least replacement resorption percent means compared to the other groups (p<0.05). The root structure was more affected by replacement resorption and ankylosis in Group IV compared to the Groups II and III, but this difference was not significant statistically (p>0.05).
Conclusion: the treatment of root surface-adhered necrotic periodontal ligament with citric acid was not able to prevent the occurrence of ankylosis, root resorption and inflammatory resorption in delayed rat tooth replantation.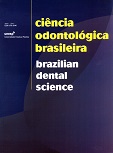 Downloads
Section
Clinical or Laboratorial Research Manuscript
License
COPYRIGHT TRANSFER AND RESPONSIBILITY STATEMENT
 (PDF | Word)
All manuscript's copyright ownership of the article "____________________________________________________________________" is transferred from the author(s) to the BRAZILIAN DENTAL SCIENCE, in the event the work is published. The manuscript has not been published elsewhere and that it has not been submitted simultaneously for publication elsewhere.
We hereby attest the study is original and does not present manipulated data, fraud or plagiarism. We made significant scientific contribution to the study and we are aware of the presented data and in agreement with the final version of the manuscript. We assume complete responsibility for the ethical aspects of the study.
This text must be printed and signed by all authors. The scanned version should be submitted as supplemental file during the submission process.