Comparison of the accuracy of cone-beam computed tomography, photostimulable phosphor imaging plate, charge coupled device, and conventional intraoral radiography in the diagnosis of internal root resorption: an in vitro study
Abstract
Objective: Various radiographic methods are used to identify the internal root resorption. The aim of this study was to assess and compare the diagnostic accuracy of cone-beam computed tomography (CBCT), photostimulable phosphor (PSP) imaging plate, charge coupled device (CCD), and conventional intraoral radiography (CIR), for internal root resorption.
Methods: This experimental study was conducted in Hamadan in 2012. Fifty seven carries-free anterior teeth were divided into three intervention groups of 15 teeth and one control group of 12 teeth. Teeth were split into two parts using a disk. Cavities of 0.5, 1 and 1.5 mm in depth were created in root canal of teeth to simulate internal root resorption artificially. Finally, the teeth fragments were fused. All teeth were examined with four different procedures and the results were compared with known simulated internal root resorption as the gold standard to determine the sensitivity and specificity of the procedures.
Results: The sensitivity of CBCT, PSP, CCD, and CIR for diagnosis internal root resorption of 0.5 mm in depth was 93%, 73%, 60%, and 53% respectively. The sensitivity of all four procedures for diagnosis of internal root resorption with 1 and 1.5 mm in depth was the same and equal to 100%. Specificity of the four radiology procedures for diagnosis of internal root resorption of any depth was 100%, 100%, 83% and 75% respectively.
Conclusion: CBCT provides the most accurate information on the depth and location of root resorption followed by the PSP and CCD respectively. Accordingly, conventional intraoral radiography was the least accurate procedure.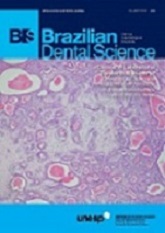 Downloads
Section
Clinical or Laboratorial Research Manuscript