Effect of etching with different hydrofluoric acid concentrations on bond strength between glazed feldspathic ceramic and metal brackets
Abstract
Objective – The aim of this study was evaluate the effect of etching with different hydrofluoric acid (HF) concentrations on the shear bond strength between glazed feldspathic ceramic and metal brackets. Materials and Methods – Seventy-five blocks of glazed feldspathic ceramic were produced and randomly allocated to 5 groups: Ctrl- silane application only; HF1- HF1%+silane; HF3- HF3%+silane; HF5- HF5%+silane; HF10- HF10%+silane (standard procedures:  etching for 1 min + washing + drying + silanization). Metal brackets for upper central incisors (Edgewise Standard) were bonded on the ceramic surface with the use of an adhesive system and light-cured composite resin (TransbondTM XT, 3M). The specimens were aged for 60 days (thermocycling: 10000x at 5-55 °C; stored in distilled water at 37 °C). Shear testing was performed, and specimens were classified for their Adhesive-Remnant-Index (ARI). Topographical inspection and contact angle analysis of the etched ceramic surfaces were performed. Data were statistically analyzed using the non-parametric Kruskal-Wallis test. One-way ANOVA and post-hoc Tukey's tests were applied to the contact angle data (p < 0.05). Results – No significant difference was detected between the shear bond strength of the groups; but surface etching had a significant influence on the contact angle results (p < 0.00001). The control group presented the highest mean contact angle (61.8 ± 17.2°). All specimens showed adhesive failure at the resin-ceramic interface. Conclusion – The tested HF concentrations did not significantly influence the obtained shear bond strength of metal brackets adhered to glazed feldspathic ceramic surfaces.
Keywords
Ceramics; Hydrofluoric acid; Adhesion; Brackets; Silanization.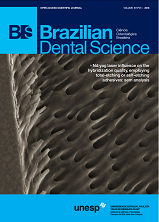 Downloads
Additional Files
Section
Clinical or Laboratorial Research Manuscript
License
COPYRIGHT TRANSFER AND RESPONSIBILITY STATEMENT
 (PDF | Word)
All manuscript's copyright ownership of the article "____________________________________________________________________" is transferred from the author(s) to the BRAZILIAN DENTAL SCIENCE, in the event the work is published. The manuscript has not been published elsewhere and that it has not been submitted simultaneously for publication elsewhere.
We hereby attest the study is original and does not present manipulated data, fraud or plagiarism. We made significant scientific contribution to the study and we are aware of the presented data and in agreement with the final version of the manuscript. We assume complete responsibility for the ethical aspects of the study.
This text must be printed and signed by all authors. The scanned version should be submitted as supplemental file during the submission process.