Antibacterial Efficacy of Conventional Versus Herbal Products on Streptococcus mutans in Adult Population- a Systematic Review & Meta-analysis
Abstract
Background:  Dental caries is challenging infectious disease, which is wide spread and difficult to control. Although it's multifactorial, microorganisms especially cariogenic Streptococcus mutans plays a wide role in initiation and progression of dental caries. Objective: The present review mainly aimed to evaluate and assess the antibacterial efficacy of herbal versus conventional products on Streptococcus mutans. Data Sources: A search was execute in electronic database (i.e., PUBMEDCENTRAL, COCHRANE, LILAC, SCIENCEDIRECT, GOOGLE SEARCH) using following search terms alone and in combination by means of PUBMED search builder from January 1990 up to July 2019. Study Eligibility Criteria: Studies were stipulate if they met the following criteria: In vivo studies comparing herbal and conventional products on anticariogenic or antibacterial activity on Streptococcus mutans were selected. Participants and Intervention: Adult patients aged from 18-65 years with dental caries undergoing intervention of herbal products. Study Appraisal and Synthesis Material and Methods: Out of 225 studies collected from databases, only 6 studies were included and other 6 were collected by hand search. Finally 12 included studies were analyzed out of which 5 studies were considered for meta-analysis. Results: The results unveil that natural products exerted virtually homogeneous antibacterial effect against Streptococcus mutans when compared with the counterpart. Limitations: Review was assessing on patients with dental caries and studies previously assessed did not mention about the caries risk. Prevalence varies based on caries risk assessments. Study was concentrating only on single species Streptococcus mutans. But ideally caries is multifactorial. Conclusion: Although natural products were effective, the present systematic review does not furnish concrete evidence to a show increased antibacterial efficacy of natural products as compared to conventional products.
Keywords
Antibiotics, Chlorhexidine, Dental Caries, Herbal, Streptococcus mutans.
References
References:
Longbottom CL, Huysmans M-C, Pitts NB, Fontana M. Glossary of key terms. Monogr Oral Sci. 2009;21:209–16.
Marsh PD, Bradshaw DJ. Physiological approaches to the control of oral biofilms. Adv Dent Res. 1997 Apr;11(1):176–85.
Hahn CL, Falkler WA, Minah GE. Microbiological studies of carious dentine from human teeth with irreversible pulpitis. Arch Oral Biol. 1991;36(2):147–53.
Hamada S, Slade HD. Biology, immunology, and cariogenicity of Streptococcus mutans. Microbiol Rev. 1980 Jun;44(2):331–84.
Bowen WH. Do we need to be concerned about dental caries in the coming millennium? Crit Rev Oral Biol Med Off Publ Am Assoc Oral Biol. 2002;13(2):126–31.
Gibbons RJ. Adherent interactions which may affect microbial ecology in the mouth. J Dent Res. 1984 Mar;63(3):378–85.
Khairnar MR, Karibasappa GN, Dodamani AS, Vishwakarma P, Naik RG, Deshmukh MA. Comparative assessment of Cranberry and Chlorhexidine mouthwash on streptococcal colonization among dental students: A randomized parallel clinical trial. Contemp Clin Dent. 2015 Mar;6(1):35–9.
Allaker RP, Douglas CWI. Novel anti-microbial therapies for dental plaque-related diseases. Int J Antimicrob Agents. 2009 Jan;33(1):8–13.
Leibovici L, Paul M, Garner P, Sinclair DJ, Afshari A, Pace NL, et al. Addressing resistance to antibiotics in systematic reviews of antibiotic interventions. J Antimicrob Chemother. 2016;71(9):2367–9.
Bell BG, Schellevis F, Stobberingh E, Goossens H, Pringle M. A systematic review and meta-analysis of the effects of antibiotic consumption on antibiotic resistance. BMC Infect Dis. 2014 Jan 9;14:13.
Gummuluri S, Kavalipurapu VT, Kaligotla AV. Antimicrobial efficacy of Novel Ethanolic Extract of Morinda Citrifolia Against Enterococcus Feacalis by Agar Well Diffusion Method and Minimal Inhibitory Concentration- An Invitro Study. Braz Dent Sci. 2019 Jul 30;22(3):365–70.
Leach A, Leach D, Leach G. Antibacterial activity of some medicinal plants of Papua New Guinea. Sci N Guin. 1988 Jan 1;1–7.
Aksoy A, Duran N, Toroglu S, Koksal F. Short-term effect of mastic gum on salivary concentrations of cariogenic bacteria in orthodontic patients. Angle Orthod. 2007 Jan;77(1):124–8.
Campbell F. McDonald and Avery's Dentistry for the child and adolescent, 9th edition. Br Dent J. 2011 Feb;210(4):191–191.
K P M, N K P, G S M. Anti cariogenic efficacy of herbal and conventional tooth pastes - a comparative in-vitro study. J Int Oral Health JIOH. 2013 Apr;5(2):8–13.
Chatterjee A, Debnath K, Rao NKH. A comparative evaluation of the efficacy of curcumin and chlorhexidine mouthrinses on clinical inflammatory parameters of gingivitis: A double-blinded randomized controlled clinical study. J Indian Soc Periodontol. 2017 Apr;21(2):132–7.
Namiranian H, Serino G. The effect of a toothpaste containing aloe vera on established gingivitis. Swed Dent J. 2012;36(4):179–85.
Megalaa N, Thirumurugan K, Kayalvizhi G, Sajeev R, Kayalvizhi EB, Ramesh V, et al. A comparative evaluation of the anticaries efficacy of herbal extracts (Tulsi and Black myrobalans) and sodium fluoride as mouthrinses in children: A randomized controlled trial. Indian J Dent Res Off Publ Indian Soc Dent Res. 2018 Dec;29(6):760–7.
Nayak SS, Ankola AV, Metgud SC, Bolmal U. Effectiveness of mouthrinse formulated from ethanol extract of Terminalia chebula fruit on salivary Streptococcus mutans among 12 to 15 year old school children of Belgaum city: a randomized field trial. J Indian Soc Pedod Prev Dent. 2012 Sep;30(3):231–6.
Agarwal P, Nagesh L. Comparative evaluation of efficacy of 0.2% Chlorhexidine, Listerine and Tulsi extract mouth rinses on salivary Streptococcus mutans count of high school children--RCT. Contemp Clin Trials. 2011 Nov;32(6):802–8.
Hegde RJ, Kamath S. Comparison of the Streptococcus mutans and Lactobacillus colony count changes in saliva following chlorhexidine (0.12%) mouth rinse, combination mouth rinse, and green tea extract (0.5%) mouth rinse in children. J Indian Soc Pedod Prev Dent. 2017 Jun;35(2):150–5.
Yoshihara A, Sakuma S, Kobayashi S, Miyazaki H. Antimicrobial effect of fluoride mouthrinse on mutans streptococci and lactobacilli in saliva. Pediatr Dent. 2001 Apr;23(2):113–7.
Malhotra N, Rao SP, Acharya S, Vasudev B. Comparative in vitro evaluation of efficacy of mouthrinses against Streptococcus mutans, Lactobacilli and Candida albicans. Oral Health Prev Dent. 2011;9(3):261–8.
Kulkarni VV, Damle SG. Comparative evaluation of efficacy of sodium fluoride, chlorhexidine and triclosan mouth rinses in reducing the mutans streptococci count in saliva : an in vivo study. J Indian Soc Pedod Prev Dent. 2003 Sep;21(3):98–104.
Jauhari D, Srivastava N, Rana V, Chandna P. Comparative Evaluation of the Effects of Fluoride Mouthrinse, Herbal Mouthrinse and Oil Pulling on the Caries Activity and Streptococcus mutans Count using Oratest and Dentocult SM Strip Mutans Kit. Int J Clin Pediatr Dent. 2015 Aug;8(2):114–8.
Waly NG. Assessment of salivary Lactobacillus and Streptococcus mutans counts following sodium fluoride mouthrinsing in Egyptian children. Egypt Dent J. 1995 Apr;41(2):1179–88.
Ullsfoss BN, Ogaard B, Arends J, Ruben J, Rölla G, Afseth J. Effect of a combined chlorhexidine and NaF mouthrinse: an in vivo human caries model study. Scand J Dent Res. 1994 Apr;102(2):109–12.
Botelho MA, dos Santos RA, Martins JG, Carvalho CO, Paz MC, Azenha C, et al. Comparative effect of an essential oil mouthrinse on plaque, gingivitis and salivary Streptococcus mutans levels: a double blind randomized study. Phytother Res PTR. 2009 Sep;23(9):1214–9.
Srinagesh J, Pushpanjali K. Assessment of antibacterial efficacy of triphala against mutans streptococci: a randomised control trial. Oral Health Prev Dent. 2011;9(4):387–93.
Srinagesh J, Krishnappa P, Somanna SN. Antibacterial efficacy of triphala against oral streptococci: an in vivo study. Indian J Dent Res Off Publ Indian Soc Dent Res. 2012 Oct;23(5):696.
Velmurugan A, Madhubala MM, Bhavani S, Satheesh Kumar KS, Sathyanarayana SS, Gurucharan N. An in-vivo comparative evaluation of two herbal extracts Emblica officinalis and Terminalia Chebula with chlorhexidine as an anticaries agent: A preliminary study. J Conserv Dent JCD. 2013 Nov;16(6):546–9.
Sam JE, Benin P, Beaulah RH, Lnu G, Krishna LM, Raja JS. Comparative Evaluation of Antibacterial Efficacy of Four Toothpastes and Mouthwashes against Streptococcus mutans and Lactobacillus: An in vivo Study. In 2016.
Yadav M, Kaushik M, Roshni R, Reddy P, Mehra N, Jain V, et al. Effect of Green Coffee Bean Extract on Streptococcus mutans Count: A Randomised Control Trial. J Clin Diagn Res JCDR. 2017 May;11(5):ZC68–71.
Usha C, Ramarao S, M John B, E Babu M. Anticariogenicity of Stevia rebaudiana Extract when used as a Mouthwash in High Caries Risk Patients: Randomized Controlled Clinical Trial. World J Dent. 2017;8(5):364–9.
Biria M, Associate Professor, Dental Research Center, Research Institute of Dental Science, School of Dentistry, Shahid Beheshti University of Medical Sciences, Tehran, Iran, Mohtavipour SS, Assistant Professor, Department of Pedodontics, School of Dentistry, Guilan University of Medical Sciences, Rasht, Iran, Eslami G, Professor, Department of Microbiology, Medical School, Shahid Beheshti University of Medical Sciences, Shahid Beheshti, Tehran, Iran, et al. Comparison of Effects of a Herbal Toothpaste with Crest Complete Toothpaste on Streptococcus Mutans and Lactobacillus of Saliva and Plaque Index: A Randomized Clinical Trial. J Islam Dent Assoc IRAN. 2017 Jan 1;29(1):29–35.
Vinod KS, Sunil KS, Sethi P, Bandla RC, Singh S, Patel D. A Novel Herbal Formulation versus Chlorhexidine Mouthwash in Efficacy against Oral Microflora. J Int Soc Prev Community Dent. 2018 Apr;8(2):184–90.
Jeddy N, Ravi S, Radhika T, Sai Lakshmi LJ. Comparison of the efficacy of herbal mouth rinse with commercially available mouth rinses: A clinical trial. J Oral Maxillofac Pathol JOMFP. 2018;22(3):332–4.
Aparna M. EVALUATION OF ANTIMICROBIAL EFFECTIVENESS OF LICORICE AND TRIPHALA MOUTHWASHES AGAINST STREPTOCOCCUS MUTANS. J Ayurveda Holist Med JAHM. 2018 Jul 13;6(3):26-33–33.
Kumar S, Tadakamadla J, Johnson NW. Effect of Toothbrushing Frequency on Incidence and Increment of Dental Caries: A Systematic Review and Meta-Analysis. J Dent Res. 2016 Oct;95(11):1230–6.
Addy M. Plaque control as a scientific basis for the prevention of dental caries. J R Soc Med. 1986;79 Suppl 14:6–10.
Figuero E, Nóbrega DF, García-Gargallo M, Tenuta L, Herrera D, Carvalho JC. Mechanical and chemical plaque control in the simultaneous management of gingivitis and caries: a systematic review. J Clin Periodontol. 2017;44(S18).
Spratt DA, Daglia M, Papetti A, Stauder M, O'Donnell D, Ciric L, et al. Evaluation of plant and fungal extracts for their potential antigingivitis and anticaries activity. J Biomed Biotechnol. 2012;2012:510198.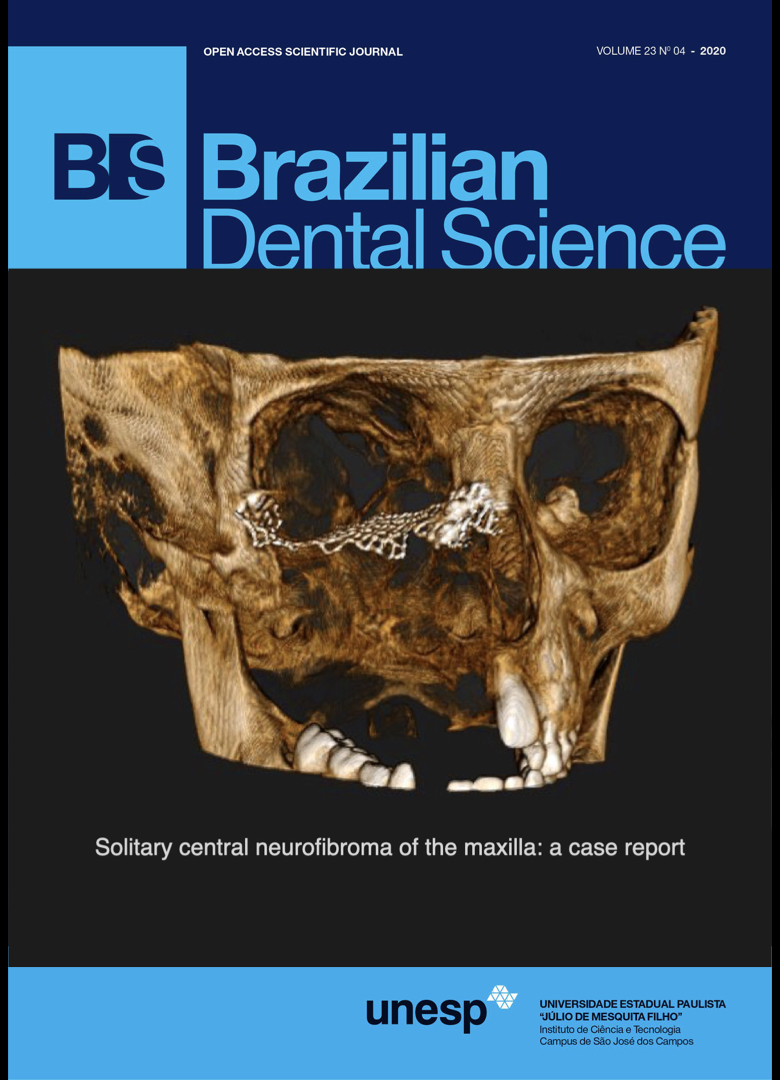 Downloads
Section
Systematic Review