Efeito de adesivos na união entre dentes artificiais e resinas acrílicas termopolimerizáveis
Abstract
O objetivo deste trabalho foi avaliar o efeito de adesivos na união dente artificial/base de resina acrílica termicamente ativada. Para tanto foram confeccionados 15 corpos-de-prova constituídos por um incisivo central superior artificial (Vipi Dent Plus - Dental Vipi Ltda) jateado com partículas de óxido de aluminio de 110 μm (Micro Etcher - Sanville) e unidos à uma base de resina acrílica termicamente ativada (Vipi Cril - Dental Vipi Ltda), divididos em 3 grupos de cinco elementos cada: G1 - sem adesivo, G2 com adesivo A e G3 - com adesivo B e submetidos a ensaio de compressão não-axial (resistência transversa). As médias dos resultados obtidos (G1=15,59±0,34, G2=26,30± 0,84 e G3=20,78±1,03) foram submetidos ao teste t Studente e Kolmogorov-Smirnof. Os resultados mostraram que o uso de adesivos efetivou significativamente a união dente/base, não havendo diferenças estatísticas entre os dois adesivos. Desta forma pode se considerar positivo o uso de adesivos para prensagem de próteses totais e parciais removíveis com dentes artificiais de resina acrílica.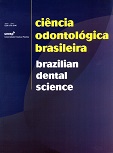 Downloads
Section
Clinical or Laboratorial Research Manuscript
License
COPYRIGHT TRANSFER AND RESPONSIBILITY STATEMENT
 (PDF | Word)
All manuscript's copyright ownership of the article "____________________________________________________________________" is transferred from the author(s) to the BRAZILIAN DENTAL SCIENCE, in the event the work is published. The manuscript has not been published elsewhere and that it has not been submitted simultaneously for publication elsewhere.
We hereby attest the study is original and does not present manipulated data, fraud or plagiarism. We made significant scientific contribution to the study and we are aware of the presented data and in agreement with the final version of the manuscript. We assume complete responsibility for the ethical aspects of the study.
This text must be printed and signed by all authors. The scanned version should be submitted as supplemental file during the submission process.