Torque de remoção de parafusos em pilares protéticos com conexão tipo hexágono interno após ciclagem mecânica
Abstract
O sucesso no tratamento reabilitador protético realizado sobre implantes ósseo-integrados pode ser comprometido por falhas mecânicas em seus componentes, tais como desajuste e até mesmo fraturas dos componentes protéticos quando expostos à função mastigatória. O presente estudo teve por objetivo avaliar, in vitro, o desajuste ocorrido na interface implante-intermediário por meio da aferição e comparação do torque inicial utilizado para a colocação do parafuso de fixação dos pilares protéticos em implantes com hexágono interno, com relação ao torque necessário para remoção dessas estruturas antes e após a simulação da função mastigatória. Testes de ciclagem mecânica foram induzidos sobre os pilares protéticos. Mediu-se o torque de remoção dos parafusos de fixação dos pilares proteticos. Houve diminuição significativa nos valores de torque de remoção de todas as amostras, e a perda foi ainda maior nas amostras submetidas à ciclagem mecânica. Os dados obtidos permitem supor que há sempre diminuição nos valores de torque de remoção desses componentes e que a função mastigatória aumenta a probabilidade de desajuste na interface implante-pilar protético.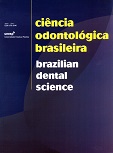 Downloads
Section
Clinical or Laboratorial Research Manuscript
License
COPYRIGHT TRANSFER AND RESPONSIBILITY STATEMENT
 (PDF | Word)
All manuscript's copyright ownership of the article "____________________________________________________________________" is transferred from the author(s) to the BRAZILIAN DENTAL SCIENCE, in the event the work is published. The manuscript has not been published elsewhere and that it has not been submitted simultaneously for publication elsewhere.
We hereby attest the study is original and does not present manipulated data, fraud or plagiarism. We made significant scientific contribution to the study and we are aware of the presented data and in agreement with the final version of the manuscript. We assume complete responsibility for the ethical aspects of the study.
This text must be printed and signed by all authors. The scanned version should be submitted as supplemental file during the submission process.