Estabilidade de cor de uma resina composta indireta
Abstract
A cor das resinas compostas indiretas é um dos mais importantes fatores no sucesso do tratamento protético. Com este material a estabilidade de cor é aspecto preponderante na longevidade deste trabalho. A proposta deste estudo foi avaliar a estabilidade de cor de resina composta indireta (Resilab Master, Wilcos – Brasil) através de um colorímetro digital. Foram confeccionados 32 corpos-de-prova (CP). Realizou-se o registro inicial da cor de cada CP, através de um colorímetro digital, que foram distribuídos em 4 grupos (n=8) e imersos em diferentes soluções. Grupo 1 (controle): água destilada/estufa; Grupo 2: água destilada/termociclagem; Grupo 3 : suco de laranja/termociclagem e Grupo 4: café/termociclagem. Após termociclagem e imersão em estufa (tempo total aproximado de 60 horas), as amostras foram enxaguadas e o registro final da cor foi obtido. Os dados foram submetidos à análise estatística (Teste de Dunnet – p<0,005). Os resultados mostraram que os valores de ΔE (diferença de cor) e desvio padrão dos grupos foram: G1: 2,35±0,84; G2: 2,97±1,21; G3: 8,33±5,87; G4: 22,38±5,33. Foi observado que os grupos 3 e 4 diferiram estatisticamente do grupo 1, exceto o grupo 2 que não foi estatisticamente significante. Baseado nos resultados, conclui-se que a termociclagem contribui para uma alteração de cor da resina composta indireta e a solução de café mancha mais do que o suco de laranja.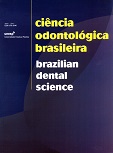 Downloads
Section
Clinical or Laboratorial Research Manuscript
License
COPYRIGHT TRANSFER AND RESPONSIBILITY STATEMENT
 (PDF | Word)
All manuscript's copyright ownership of the article "____________________________________________________________________" is transferred from the author(s) to the BRAZILIAN DENTAL SCIENCE, in the event the work is published. The manuscript has not been published elsewhere and that it has not been submitted simultaneously for publication elsewhere.
We hereby attest the study is original and does not present manipulated data, fraud or plagiarism. We made significant scientific contribution to the study and we are aware of the presented data and in agreement with the final version of the manuscript. We assume complete responsibility for the ethical aspects of the study.
This text must be printed and signed by all authors. The scanned version should be submitted as supplemental file during the submission process.