Effects of immunization with Streptococcus mutans surface antigens in auto-reactivity of BALB/c mice
Abstract
Abstract
BALB/c mice were hiperimmunized with surface antigens of Streptococcus mutans, GS5 strain. The immunization increased significantly anti-heart and anti-myosin IgG, free and present in immunecomplexes. In Western-blotting, the autoantibodies displayed a notable reactivity with cardiac myosin and cardiac tissue proteins, mainly with a 35 kDa peptide. The histological analysis of hearts demonstrated absence of significant damage in valves and myocardium, and immunohistochemistry showed absence of antibodies linked in cardiac tissue. The treatment with cyclophosphamide was able to reduce autoantibody levels but did not alter de histological aspect of heart. These findings demonstrated that surface antigens S. mutans, GS5 strain, were able to induce autoantibody synthesis without potential to initiate cardiac damage.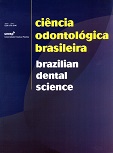 Downloads
Section
Clinical or Laboratorial Research Manuscript
License
COPYRIGHT TRANSFER AND RESPONSIBILITY STATEMENT
 (PDF | Word)
All manuscript's copyright ownership of the article "____________________________________________________________________" is transferred from the author(s) to the BRAZILIAN DENTAL SCIENCE, in the event the work is published. The manuscript has not been published elsewhere and that it has not been submitted simultaneously for publication elsewhere.
We hereby attest the study is original and does not present manipulated data, fraud or plagiarism. We made significant scientific contribution to the study and we are aware of the presented data and in agreement with the final version of the manuscript. We assume complete responsibility for the ethical aspects of the study.
This text must be printed and signed by all authors. The scanned version should be submitted as supplemental file during the submission process.