Influência de agentes desinfetantes sobre a aderência de Staphylococcus aureus em aço inoxidável
Abstract
Resumo
A desinfecção de instrumentais odontológicos pré-lavagem é um procedimento de extrema importância na clínica diária. No entanto, a utilização de soluções desinfetantes não pode alterar a superfície do instrumental odontológico, favorecendo posterior aderência bacteriana. O objetivo deste trabalho foi analisar a aderência de Staphylococcus aureus antes e após a ciclagem por 28 dias com diferentes soluções desinfetantes: glutaraldeído a 2%, vinagre a 100% e ácido peracético a 0,2%. O grupo controle sofreu ciclagem com água destilada pelo mesmo período. Cinqüenta corpos-de-prova foram esterilizados e submetidos ao teste de aderência antes e após a ciclagem, sendo imersos em caldo infusão cérebro coração e 0,1 mL de suspensão padronizada (106 células/mL) de S. aureus. A seguir, os microrganismos aderidos aos corposde-prova foram dispersos, diluídos e semeados em meio de cultura para determinar o número de unidades formadoras de colônias (UFC/mL). Os dados foram transformados em logarítmo de base 10 e submetidos ao teste estatístico t de Student. Os resultados demonstraram diferenças significantes entre o grupo controle e as soluções desinfetantes, porém o ácido peracético foi o que demonstrou menor aderência de S. aureus pós-ciclagem, seguido do glutaraldeído e vinagre, sem diferenças entre eles, demonstrando que estes desinfetantes podem ser utilizados sem efeitos deletérios na aderência deste microrganismo ao aço inoxidável.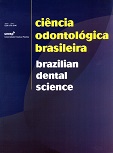 Downloads
Section
Clinical or Laboratorial Research Manuscript
License
COPYRIGHT TRANSFER AND RESPONSIBILITY STATEMENT
 (PDF | Word)
All manuscript's copyright ownership of the article "____________________________________________________________________" is transferred from the author(s) to the BRAZILIAN DENTAL SCIENCE, in the event the work is published. The manuscript has not been published elsewhere and that it has not been submitted simultaneously for publication elsewhere.
We hereby attest the study is original and does not present manipulated data, fraud or plagiarism. We made significant scientific contribution to the study and we are aware of the presented data and in agreement with the final version of the manuscript. We assume complete responsibility for the ethical aspects of the study.
This text must be printed and signed by all authors. The scanned version should be submitted as supplemental file during the submission process.