Histomorphometric analysis of the effects of calcitonin on alveolar socket repair in diabetic rats
Keywords:
alvéolo dentário, calcitonina de salmão, diabetes mellitus, estreptozotocina, reparação do osso
Abstract
O objetivo desse estudofoi fazer uma avaliação histomorfométrica da cicatrização do alvéolo dental na presença crónica de calcitonina de salmão (16UI/Kg) na condição do diabetes. Para isso sessenta ratos albinos foram utilizados. Estes animais foram divididos em três grupos: controle (C), diabético (D) e diabéticos tratados com calcitonina(Dca). Os grupos D e Dca receberam uma injeção única 45mg/Kg intraperitoneal de estreptozotocina-STZ. Após duas semanas, todos os animais foram submetidos a exodontia do incisivo superior direito e cinco animais de cada grupo foram sacrificados aos 15, 30 e 45 dias pós-operatórios. As peças foram fixadas, descalcificados e incluídas em parafina. Os blocos obtidos foram cortados com 6 micrômetros de espessura e  corados com hematoxilina e eosina para estudo morfológico. De acordo com os resultados obtidos verificou-se que nos animais tratados com calcitonina houve alteração na cicatrização da ferida após extração dental, atenuando o comprometimento da dinâmica da reparação óssea  comumente observada no estado diabético.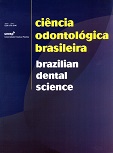 Downloads
Section
Clinical or Laboratorial Research Manuscript