Effect of Nd:YAG laser in the bond strength of fiberglass posts
Abstract
The aim of the present study was to compare the effects of Nd:YAG laser application in root canals on bond strengths of fiber posts. Thirty single-rooted bovines were randomly divided into three groups (n=10); root canal instrumentation was performed, and pretreatment was conducted as follows: C group: conventional treatment (without laser irradiation); ALC group: Nd:YAG laser was applied after adhesive; and LAC group: Nd:YAG laser was applied before adhesive. The fiber posts Rebilda 15 DC (Voco) were cemented with an adhesive system and resin cement, in accordance with the manufacturer's instructions. Six slices with 1.0mm height was obtained for of each root and bond strength was measured by push-out test using a universal testing machine (0.5 mm/min). Data were analyzed using Kruskal-Wallis and Dunn's tests (p <0.05). Push-out bond strengths to root canal dentin were affected by the type of treatment and root third. The use of Nd:YAG laser after the application of adhesive system had a higher bonding performance compared with the use of laser before the application. Also, cervical and medium third presented higher bond strength values than the apical third. It must be conclude that the laser irradiation over the non-cured adhesive system is more efficient for increase in bond strength than the irradiation after the application of the adhesive. However, the use of 60mJ of laser energy is not sufficient to improve the bonding performance.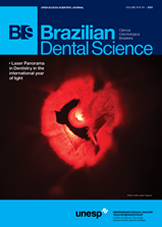 Downloads
Additional Files
Section
Clinical or Laboratorial Research Manuscript
License
COPYRIGHT TRANSFER AND RESPONSIBILITY STATEMENT
 (PDF | Word)
All manuscript's copyright ownership of the article "____________________________________________________________________" is transferred from the author(s) to the BRAZILIAN DENTAL SCIENCE, in the event the work is published. The manuscript has not been published elsewhere and that it has not been submitted simultaneously for publication elsewhere.
We hereby attest the study is original and does not present manipulated data, fraud or plagiarism. We made significant scientific contribution to the study and we are aware of the presented data and in agreement with the final version of the manuscript. We assume complete responsibility for the ethical aspects of the study.
This text must be printed and signed by all authors. The scanned version should be submitted as supplemental file during the submission process.