Determination of chemical elements and cross-section hardness of sclerotic darkened human dentin
Abstract
Objective: The aim of this study was to assess the amount of chemical elements (Ca, O, C, P, Fe, and Mg) and the cross-section hardness of sclerotic darkened dentin in human teeth. Material and Methods: The study was approved by the local IRB and ten extracted teeth (five sound and five presenting sclerotic darkened dentin) were used. Tooth was sectioned mesiodistally and each half was used for each test. Amount of chemical elements (%w) was determined by energy dispersive X-ray spectroscopy (EDS) in three different dentin areas (shallow, medium, or deep sound or sclerotic dentin). Knoop microhardness was determined at the same EDS areas. Data were analyzed by two-way ANOVA and multiple comparison tests, with significance level at 5%. Results: No difference on microhardness was detected between sound and sclerotic dentin (p = 0.743) and also among dentin depths (p = 0.837). Lower Ca (p = 0.024) and higher C (p = 0.015) amounts were found at superficial sclerotic dentin. Increased Mg content (p < 0.001) was detected in sound dentin. Conclusion: It was concluded darkened sclerotic dentin presents similar cross-section microhardness to sound dentin. The assessed chemical elements were similarly present in sound or sclerotic dentin, except for Mg, which was present higher concentration in sound dentin. Ca and P were lower in superficial sclerotic dentin.
Keywords: Dentin; Hardness; Minerals; Tooth Remineralization.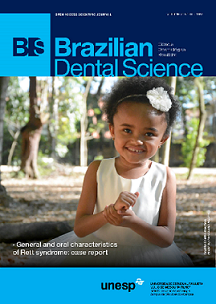 Downloads
Additional Files
Section
Clinical or Laboratorial Research Manuscript
License
COPYRIGHT TRANSFER AND RESPONSIBILITY STATEMENT
 (PDF | Word)
All manuscript's copyright ownership of the article "____________________________________________________________________" is transferred from the author(s) to the BRAZILIAN DENTAL SCIENCE, in the event the work is published. The manuscript has not been published elsewhere and that it has not been submitted simultaneously for publication elsewhere.
We hereby attest the study is original and does not present manipulated data, fraud or plagiarism. We made significant scientific contribution to the study and we are aware of the presented data and in agreement with the final version of the manuscript. We assume complete responsibility for the ethical aspects of the study.
This text must be printed and signed by all authors. The scanned version should be submitted as supplemental file during the submission process.