Challenges to be overcome: Current situation involving smoking cessation in Dental setting
Abstract
Objective: Tobacco use is the leading cause of preventable illness in the world. The dental office represents an opportunity to approach smokers to tobacco use control. Despite this well-known statement tobacco use cessation intervention delivered by dentists remain less explored than expected. This study evaluated published articles about interventions delivered by dentists and dental healthcare professionals on smoking cessation and discusses the barriers to be overcome to achieve this goal. Material and Methods: The Medline (PubMed), Scopus, Web of Science, Cochrane Reviews, LILACS and Google Scholar databases were searched for articles published in English between January 2010 and December 2016 using the following MeSH terms keywords: tobacco use cessation, smoking cessation, tobacco use disorder and dentistry. Complementary hand searching was done checking bibliographic references for potentially articles. Results: Seventy-two publications were eligible and the results were divided into eight categories: 1) the role of dentists in tobacco use control; 2) knowledge about tobacco use treatment and interventions; 3) characteristics of the dentist's approach to smokers; 4) barriers and facilitators; 5) future interventions for smoking cessation, 6) reimbursement for tobacco interventions, 7) surveys and 8) systematic reviews and guidelines. Conclusion: Dentists play an important role in the prevention and control of smoking. Training in tobacco use cessation has been increased in the past few decades. Teaching how to deal with smoking in undergraduate courses should be a priority for the next few years, so that a new generation of dentists will incorporate into their habitual activities a natural and efficient approach to smokers.
Keywords:
Dentistry; Tobacco use cessation; Tobacco use disorder.
Keywords
Dentistry; Smoking cessation; Tobacco use disorder.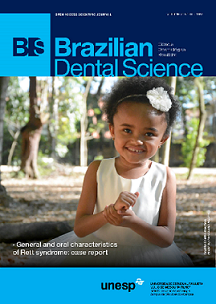 Downloads
Section
Systematic Review