Effect of different root dentin pretreatment protocols on the bond strength of fiber posts cemented with core buildup material
Abstract
Objective: The purpose of the study was to evaluate the push out bond strength of fiber posts -after cementaion with core build up material and dentin pretreatment using different adhesive protocols- in different root regions. Material and Methods: 28 endodonticaly treated human premolars were divided into 4 groups. The post spaces were treated with 1 of 4 different dentin bonding protocols: total etch light cured adhesive, solobond m; total etch dual cured adhesive, Excite f DSC; self-etching light cured adhesive, single bond universal; or self-etching dual cured adhesive, futura bond dc. Fiber posts, were luted with dual cured core material. The roots were cut into 2-mm-thick sections, in cervical, middle, and apical regions. Push-out tests were performed with a universal testing machine, and bond strength values (MPa) were calculated. Data were analyzed with 1- and 2-way analysis of variance and Tukey multiple comparison tests (a=.05). Failure modes were examined under stereo microscope. Results: The highest mean bond strength values were obtained for self-etch dual cured adhesive, (9.69 MPa). The Total etch light cured adhesive (2.81 MPa) showed the lowest bond strength. Self-etch light-polymerized and total etch dual-polymerized adhesives provided similar bond strengths (5.37, 5.72 respectively). The regional bond strength values were reduced significantly in apical post space (P<0.01). The most predominant failure type was mixed failure followed by adhesive failure. Conclusion: Dentin pretreatment using self-etch dual cured adhesives prior to fiber posts cementation offers a high bond strength. While using total-etch light cured adhesives is not recommended due to the low bonding quality.
Keywords
Dentin; Bond strength; Fiber posts; Core buildup material; Adhesive protocols; Pretreatment.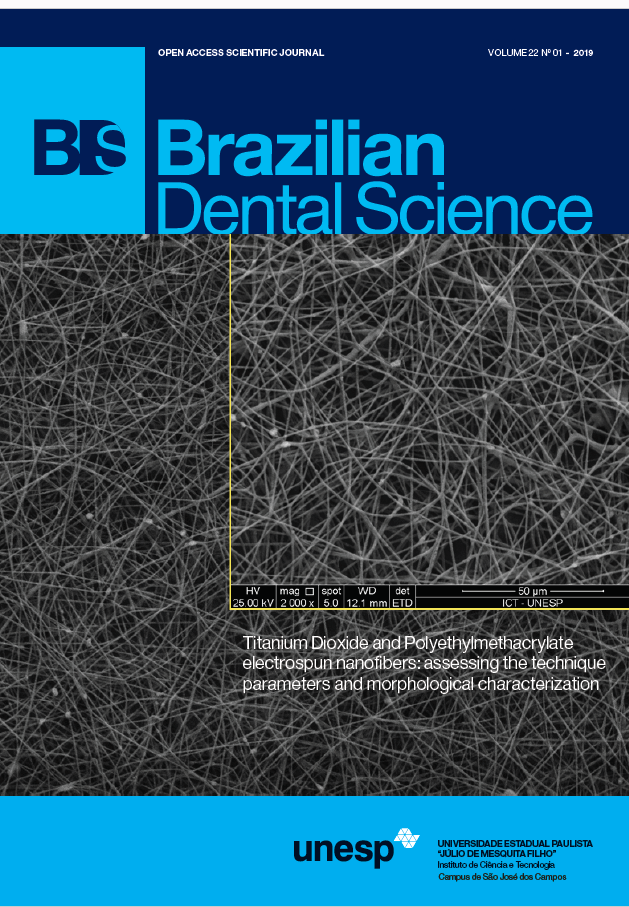 Downloads
Additional Files
Section
Clinical or Laboratorial Research Manuscript
License
COPYRIGHT TRANSFER AND RESPONSIBILITY STATEMENT
 (PDF | Word)
All manuscript's copyright ownership of the article "____________________________________________________________________" is transferred from the author(s) to the BRAZILIAN DENTAL SCIENCE, in the event the work is published. The manuscript has not been published elsewhere and that it has not been submitted simultaneously for publication elsewhere.
We hereby attest the study is original and does not present manipulated data, fraud or plagiarism. We made significant scientific contribution to the study and we are aware of the presented data and in agreement with the final version of the manuscript. We assume complete responsibility for the ethical aspects of the study.
This text must be printed and signed by all authors. The scanned version should be submitted as supplemental file during the submission process.