Estudo dos pacientes desdentados totais atendidos na disciplina de prótese total da Faculdade de Odontologia de Araraquara no período de 1987 a 1997
Abstract
Embora o número de indivíduos totalmente desdentados tenha diminuído nas últimas décadas, há ainda uma efetiva demanda por tratamento com próteses totais, sendo que a prevalência e o padrão de idade relacionados ao edentulismo total é variável em diferentes grupos populacionais. O presente estudo avaliou o padrão de edentulismo de pacientes desdentados atendidos na Faculdade de Odontologia de Araraquara (Unesp) no período entre 1987 e 1997. Foram avaliados os prontuários de 486 pacientes atendidos na Disciplina de Prótese Total, desdentados totais bimaxilares que receberam próteses totais superior e inferior neste período. Do total de pacientes, 64,8% eram do sexo feminino e 35,2% do sexo masculino, a idade dos pacientes variou entre 20 e 89 anos com média de 57 (+12) anos. A idade média da perda total de dentes foi estimada em 42 (+14,5) anos, com variação entre 15 e 86 anos e o tempo médio de uso de prótese relatado pelos pacientes foi de 19,65 (+11,24) anos. Os resultados demonstram que a perda total de dentes ocorre geralmente em idade mais precoce nas mulheres, o que pode estar relacionado à condição cultural e sócio-econômica destes pacientes.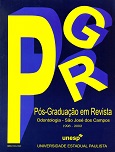 Downloads
Section
Clinical or Laboratorial Research Manuscript
License
COPYRIGHT TRANSFER AND RESPONSIBILITY STATEMENT
 (PDF | Word)
All manuscript's copyright ownership of the article "____________________________________________________________________" is transferred from the author(s) to the BRAZILIAN DENTAL SCIENCE, in the event the work is published. The manuscript has not been published elsewhere and that it has not been submitted simultaneously for publication elsewhere.
We hereby attest the study is original and does not present manipulated data, fraud or plagiarism. We made significant scientific contribution to the study and we are aware of the presented data and in agreement with the final version of the manuscript. We assume complete responsibility for the ethical aspects of the study.
This text must be printed and signed by all authors. The scanned version should be submitted as supplemental file during the submission process.