Avaliação óssea alveolar de rattus norvegicus por meio dos métodos radiográfico e morfométrico
Abstract
O objetivo neste estudo foi avaliar a característica anatômica do osso alveolar de ratos por meio dos métodos radiográfico e morfométrico. Para tanto foram utilizados 30 ratos. Os animais foram sacrificados e as mandíbulas e maxilas direitas foram fixadas em formol a 10%. Os espécimes foram morfométricamente analisados em lupa esteroscópica para determinação do nível ósseo alveolar nas faces livres. Posteriormente, foram radiografados para mensuração do suporte ósseo periodontal (SOP) junto as proximais distal e mesial. As mensurações foram realizadas duas vezes por um único examinador. Os dados foram analisados estatisticamente pelo teste ANOVA com nível de significância de 5%. Pelo teste t pareado não foi observada diferença estatística (p>0,05) para as duas medidas realizadas. O percentual de SOP não diferiu estatisticamente nem entre as raízes mesial e distal nem entre os arcos (p>0,05). Entretanto, o nível ósseo alveolar apresentou-se menor na raiz distal da mandíbula em relação as outras, na maxila foi maior nas raízes linguais que nas vestibulares (p=0,0000). Quando comparada as raízes linguais maxilares com as mandibulares, os valores mandibulares foram estatisticamente superiores (p=0,000). O presente estudo experimental transversal em ratos verificou que os métodos radiográfico e morfométrico são reproduzíveis e complementares e que a anatomia óssea alveolar dos molares avaliados se caracteriza por apresentar níveis ósseos distintos associadas a suporte ósseo periodontal proporcionalmente equivalentes.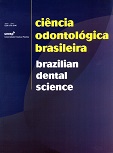 Downloads
Section
Clinical or Laboratorial Research Manuscript
License
COPYRIGHT TRANSFER AND RESPONSIBILITY STATEMENT
 (PDF | Word)
All manuscript's copyright ownership of the article "____________________________________________________________________" is transferred from the author(s) to the BRAZILIAN DENTAL SCIENCE, in the event the work is published. The manuscript has not been published elsewhere and that it has not been submitted simultaneously for publication elsewhere.
We hereby attest the study is original and does not present manipulated data, fraud or plagiarism. We made significant scientific contribution to the study and we are aware of the presented data and in agreement with the final version of the manuscript. We assume complete responsibility for the ethical aspects of the study.
This text must be printed and signed by all authors. The scanned version should be submitted as supplemental file during the submission process.