Bond Strength of composite repairs using flowable or conventional resins or the association of both
Abstract
Objectives: The aim of this in vitro study was to evaluate the effects of flowable resin as an intermediate agent on composite repairs on bond strength. Methods: Thirty truncated cones of Grandio SO (VOCO) were prepared and thermo-cycled for 5000 cycles for artificial aging. Specimen's surface were sandblasted with aluminum oxide, cleaned with air/water spray and conditioned with phosphoric acid for 15s. After that, one coat of Admira Bond Adhesive (VOCO) was applied and light cured for 20s. Specimens were divided into 3 groups according to the repair material used (n= 10): Conventional Resin – Grandio SO (R), A thin layer of Flowable resin – Grandio SO Heavy Flow + conventional Resin (FR) and Flowable resin (F). Over the original specimens, a sectional cone-shape teflon matrix was hold in position , and the cones were built, according the groups described above. Another thirty specimens were built, 10 of each group, simulating a restoration without repair. Specimens were submitted to tensile stress in a universal testing machine. Data were recorded in MPa and evaluated with ANOVA, Tukey´ s and non-paired "t'' tests. Results: ANOVA showed significant differences between groups which were performed repair (p< 0.00). The results of Tukey´ s test for these groups were: R (19.89 5.31)ab, F+R (14.49 5.59)a, F (20.91 3.99)b. The groups followed by the same letter did not show statistical differences. Non-paired "t" test showed that groups R and F repairs were similar of the correspondent groups which simulated a restoration without repair. Conclusions: The repair with conventional or flowable composite produced bond strength values similar to cohesive strength of the same materials. The use of a thin layer of flowable resin as an intermediate agent in composite repair decreased the bond strength when compared the same method for restoration.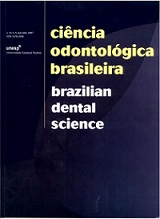 Downloads
Additional Files
Section
Clinical or Laboratorial Research Manuscript
License
COPYRIGHT TRANSFER AND RESPONSIBILITY STATEMENT
 (PDF | Word)
All manuscript's copyright ownership of the article "____________________________________________________________________" is transferred from the author(s) to the BRAZILIAN DENTAL SCIENCE, in the event the work is published. The manuscript has not been published elsewhere and that it has not been submitted simultaneously for publication elsewhere.
We hereby attest the study is original and does not present manipulated data, fraud or plagiarism. We made significant scientific contribution to the study and we are aware of the presented data and in agreement with the final version of the manuscript. We assume complete responsibility for the ethical aspects of the study.
This text must be printed and signed by all authors. The scanned version should be submitted as supplemental file during the submission process.