Comparação da adesividade de dois sistemas adesivos auto-condicionantes em esmate de dentes bovinos
Abstract
A introdução de novos sistemas adesivos autocondicionantes trouxe insegurança e dúvidas para os clínicos, pois questionava-se a eficácia de seu uso uma vez que dispensam o condicionamento ácido prévio. Objetivando investigar a capacidade de adesão desses sistemas adesivos através de ensaios de cisalhamento, empregamos três sistemas adesivos sendo 2 autocondicionantes e um convencional em esmalte e realizamos ensaios. Os resultados demonstraram que esses sistemas, quando comparados com o sistema adesivo convencional, promovem uma efetiva adesão, e que ao ser aplicado teste estatístico ANOVA One-Way sob um índice de significância p < 0,05, os valores foram estatisticamente diferentes, ou seja, para o Scotchbond Multipurpose – 3M - (SBMP): 10,95 MPa com desvio padrão de 2,55, como grupo controle, onde foi utilizado condicionamento ácido prévio. Os outros dois sistemas adesivos autocondicionantes apresentaram os seguinte valores: Prompt –ESPE- (PPT): 9,15 MPa, com desvio padrão de 8,18, e o Clearfil S E Bond –Kuraray – (CSEB): de 12,42 MPa com desvio padrão de 4,03. Os resultados sugerem que podemos empregar esses novos sistemas adesivos em esmalte, e provavelmente, poderemos conseguir bons resultados adesivos, tão bom ou até melhor do que os sistemas convencionais.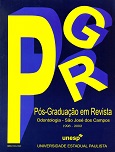 Downloads
Section
Clinical or Laboratorial Research Manuscript
License
COPYRIGHT TRANSFER AND RESPONSIBILITY STATEMENT
 (PDF | Word)
All manuscript's copyright ownership of the article "____________________________________________________________________" is transferred from the author(s) to the BRAZILIAN DENTAL SCIENCE, in the event the work is published. The manuscript has not been published elsewhere and that it has not been submitted simultaneously for publication elsewhere.
We hereby attest the study is original and does not present manipulated data, fraud or plagiarism. We made significant scientific contribution to the study and we are aware of the presented data and in agreement with the final version of the manuscript. We assume complete responsibility for the ethical aspects of the study.
This text must be printed and signed by all authors. The scanned version should be submitted as supplemental file during the submission process.