Determinação das posições dos dentes artificiais anteriores inferiores em próteses totais bi-maxilares
Abstract
Objetivando auxiliar na determinação do relacionamento esquelético maxilo mandibular no plano horizontal e da crista óssea original do rebordo alveolar inferior anterior, em pacientes edentados totais bi-maxilares, apresenta-se um método radiográfico baseado em traçados cefalométricos. A amostra foi composta por 64 pacientes do ambulatório de prótese total da Universidade de Santo Amaro. Para estes pacientes foram confeccionadas próteses totais e tomadas duas telerradiografias, uma em posição de repouso mandibular e outra em oclusão. Para a evidenciação radiográfica, foram montados, nos planos de oclusão duplicados dos originais, os incisivos centrais superior e inferior direito e introduziu-se em seus longos eixos, um fio ortodôntico de 0,5mm de espessura. Na radiografia em posição de oclusão, foram feitos traçados cefalométricos que permitiram diagnosticar o relacionamento maxilo mandibular e a posição da crista óssea original. Comparando-se esse diagnóstico com o clínico, pôde-se notar diferenças em 11 casos, quanto ao relacionamento maxilo mandibular e 23, quanto à posição dos dentes sobre a crista óssea. Desses 23 casos (35,93% da amostra), 18 (28,12%), tiveram discrepância na montagem dos dentes para posterior e 5 (7,81%), para anterior. Esses resultados indicam a necessidade de mais estudos sobre métodos de diagnóstico, para minimizar as possibilidades de erros.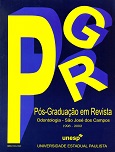 Downloads
Section
Clinical or Laboratorial Research Manuscript
License
COPYRIGHT TRANSFER AND RESPONSIBILITY STATEMENT
 (PDF | Word)
All manuscript's copyright ownership of the article "____________________________________________________________________" is transferred from the author(s) to the BRAZILIAN DENTAL SCIENCE, in the event the work is published. The manuscript has not been published elsewhere and that it has not been submitted simultaneously for publication elsewhere.
We hereby attest the study is original and does not present manipulated data, fraud or plagiarism. We made significant scientific contribution to the study and we are aware of the presented data and in agreement with the final version of the manuscript. We assume complete responsibility for the ethical aspects of the study.
This text must be printed and signed by all authors. The scanned version should be submitted as supplemental file during the submission process.