Efeito do tempo de condicionamento da superfície cerâmica sobre a resistência adesiva entre uma cerâmica de fluorapatita e um cimento resinoso
Abstract
O objetivo deste estudo foi avaliar a resistência de união entre uma cerâmica sintética de fluorapatita e leucita livre de feldspato e um cimento resinoso dual, variando o tempo de condicionamento ácido da superfície da cerâmica. Foram confeccionados 16 blocos de cerâmica (IPS d. SIGN- Ivoclar-Vivadent) que foram divididos aleatoriamente em 2 grupos (n=8), conforme o tempo de condicionamento ácido da superfície cerâmica: G1 - condicionamento durante 30 segundos com ácido fluorídrico 10%, seguido da aplicação do agente silano (Primer ceramic, 3M/Espe); G2: condicionamento com ácido fluorídrico 10% durante 2 minutos, seguido da aplicação do silano (Primer ceramic, 3M/Espe). Os blocos de cerâmica foram unidos a blocos de resina composta, recém confeccionados, (Fill Magic, Vigodent) com o cimento resinoso Rely X (3M/Espe) sob uma carga de 750g. Os conjuntos foram armazenados em água por 24h e seccionados em dois eixos, x e y, obtendo-se corpos-de-prova (CP) com área de aproximadamente 0,7 mm2. Os CP foram submetidos ao ensaio de microtração a uma velocidade de 0,5 mm/min. Os resultados foram submetidos a duas análises estatísticas utilizando todos os CP, incluindo os com valores zero (G1 = 12,99 ± 6,7 MPa e G2 = 14,97 ± 3,7 MPa) e excluindo os com valores zero (G1 = 20,19 ± 3,8 MPa e G2 = 22,31 ± 2,8 MPa). Não foi observada diferença estatística entre os grupos em nenhuma das análises (p>0,05).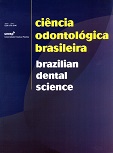 Downloads
Section
Clinical or Laboratorial Research Manuscript
License
COPYRIGHT TRANSFER AND RESPONSIBILITY STATEMENT
 (PDF | Word)
All manuscript's copyright ownership of the article "____________________________________________________________________" is transferred from the author(s) to the BRAZILIAN DENTAL SCIENCE, in the event the work is published. The manuscript has not been published elsewhere and that it has not been submitted simultaneously for publication elsewhere.
We hereby attest the study is original and does not present manipulated data, fraud or plagiarism. We made significant scientific contribution to the study and we are aware of the presented data and in agreement with the final version of the manuscript. We assume complete responsibility for the ethical aspects of the study.
This text must be printed and signed by all authors. The scanned version should be submitted as supplemental file during the submission process.