O efeito da temperatura de queima da camada de opaco na resistência flexural de uma cerâmica vítrea submetida à cocção sobre uma liga de cobalto-cromo
Abstract
Este estudo avaliou a influência da temperatura de queima da camada de opaco na resistência de união entre uma liga de cobalto-cromo e uma cerâmica, após serem submetidos ao ensaio de flexão de três pontos. Considera-se a hipótese: o aumento da temperatura de queima do opaco melhora a resistência flexural da cerâmica aplicada sobre o metal. Barras metálicas (25x3x0,5mm) (n=30) foram fundidas em Co-Cr e as áreas centrais das barras (8x3mm) foram jateadas com partículas de óxido de alumínio de 150μm e divididas em 3 grupos de acordo com a temperatura de queima da camada de opaco (n=10): G1 (grupo controle) – 900°C; G2 – 950°C e G3 – 1000°C. As cerâmicas opaca e de corpo (Vita Omega 900) foram queimadas sobre a área central. Os espécimes foram mantidos em água destilada à 37° C durante 24 horas e a seguir foram submetidos ao teste de flexão de três pontos. Após o teste, os tipos de falhas foram classificados. Os dados obtidos foram analisados estatisticamente (Kruskal-Wallis 1 e teste de Dunn , μ=0,05). A diferença dos valores médios de resistência flexural foi estatisticamente significante (p=0,004), sendo que os grupos G2- 19,84±4,24N e G3- 22,43±5,94N exibiram valores de resistência flexural maiores que o grupo G1- 12,525±1,08N. Concluíu-se que o aumento da temperatura de queima da camada de opaco melhorou significantemente os valores de resistência flexural. O modo de falha predominante foi adesiva na interface metal/cerâmica para o grupo G1 e exclusivamente coesiva na zona interfacial camada de opaco/Co-Cr com presença de cerâmica na superfície dos grupos G2 e G3.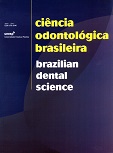 Downloads
Section
Clinical or Laboratorial Research Manuscript
License
COPYRIGHT TRANSFER AND RESPONSIBILITY STATEMENT
 (PDF | Word)
All manuscript's copyright ownership of the article "____________________________________________________________________" is transferred from the author(s) to the BRAZILIAN DENTAL SCIENCE, in the event the work is published. The manuscript has not been published elsewhere and that it has not been submitted simultaneously for publication elsewhere.
We hereby attest the study is original and does not present manipulated data, fraud or plagiarism. We made significant scientific contribution to the study and we are aware of the presented data and in agreement with the final version of the manuscript. We assume complete responsibility for the ethical aspects of the study.
This text must be printed and signed by all authors. The scanned version should be submitted as supplemental file during the submission process.