Influência de operadores na adaptação das bases de prótese total
Abstract
A adaptação das bases de prótese total superior foi verificada em função de três operadores. Cada operador confeccionou cinco conjuntos modelo de gesso-base de cera, que foram incluídos pela técnica de rotina em muflas metálicas. A resina acrílica polimerizada termicamente Clássico foi proporcionada e manipulada de acordo com as instruções do fabricante. Após prensagem final sob carga de 1.250 Kgf em prensa de bancada, as muflas foram colocadas em prensa de mola e a resina acrílica submetida ao ciclo de polimerização em água aquecida a 74oC por 9 horas. As bases de resina foram fixadas ao modelo com adesivo instantâneo e o conjunto secionado lateralmente nas regiões correspondentes à distal dos caninos (A), mesial dos primeiros molares (B) e palatina posterior (C). O desajuste da base de resina ao modelo de gesso foi verificado com microscópio comparador, em cinco pontos para cada tipo de corte. Os resultados submetidos à análise estatística e ao teste de Tukey (5%) mostraram que o nível de desajuste da base foi influenciado pelos operadores e as diferenças foram estatisticamente significativas (p<0,05) para um dos operadores.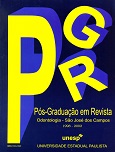 Downloads
Section
Clinical or Laboratorial Research Manuscript
License
COPYRIGHT TRANSFER AND RESPONSIBILITY STATEMENT
 (PDF | Word)
All manuscript's copyright ownership of the article "____________________________________________________________________" is transferred from the author(s) to the BRAZILIAN DENTAL SCIENCE, in the event the work is published. The manuscript has not been published elsewhere and that it has not been submitted simultaneously for publication elsewhere.
We hereby attest the study is original and does not present manipulated data, fraud or plagiarism. We made significant scientific contribution to the study and we are aware of the presented data and in agreement with the final version of the manuscript. We assume complete responsibility for the ethical aspects of the study.
This text must be printed and signed by all authors. The scanned version should be submitted as supplemental file during the submission process.