New Trends in Dentin Bonding: Treatment with chlorhexidine, hyaluronic acid, vitaminc C and green tea
Abstract
Objective: The aim of this study was to evaluate the bond strength of dentin treated with chlorhexidine, hyaluronic acid, vitamin C and green tea. Material and Methods: The roots of 50 bovine teeth were removed and buccal coronal dentin was exposed. After acid-etching, the specimens were divided into 5 groups (n = 10), according to the dentin treatment strategy: CO - untreated dentin; CHX - treated with 2 wt% chlorhexidine for 30 sec; HA - treated with 1 wt% hyaluronic acid for 30 sec; VC - treated with 10 wt% vitamin C for 30 sec; GT - treated a 1% green tea extract for 30 sec.  Adper Single Bond was then applied to the treated according to the manufacturer's recommendations. The specimens were restored with a 4-mm thick layer of the resin composite, which was polymerized for 40 sec. The specimens were stored in distilled water at 37°C for 24 h and sectioned into 1x1 mm2 sticks containing the adhesive interface. Microtensile bond strength testing was performed with a universal testing machine at a cross-head speed of 1.0 mm/min. Results: The results were analyzed with one-factor ANOVA and Tukey's multiple comparison tests. GT group presented the highest values bond strength (29.4±3.1)a, but no significant difference compared to the other experimental groups HA(26.7±3.1)ab, CHX(25.4±2.6)ab and VC(22.4±6.0)b. Bond strengths of experimental groups were not significantly different from the CO. Conclusion: Immediate bond strength was preserved after acid-etched dentin was treated.
Keywords: Chlorhexidine. Hyaluronic acid. Vitamin C. Green tea. Bond strength.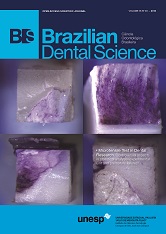 Downloads
Additional Files
Section
Clinical or Laboratorial Research Manuscript
License
COPYRIGHT TRANSFER AND RESPONSIBILITY STATEMENT
 (PDF | Word)
All manuscript's copyright ownership of the article "____________________________________________________________________" is transferred from the author(s) to the BRAZILIAN DENTAL SCIENCE, in the event the work is published. The manuscript has not been published elsewhere and that it has not been submitted simultaneously for publication elsewhere.
We hereby attest the study is original and does not present manipulated data, fraud or plagiarism. We made significant scientific contribution to the study and we are aware of the presented data and in agreement with the final version of the manuscript. We assume complete responsibility for the ethical aspects of the study.
This text must be printed and signed by all authors. The scanned version should be submitted as supplemental file during the submission process.