Clinical comparison of fiber-reinforced composite and stainless steel wire for splinting periodontally treated mobile teeth
Abstract
Objective: This clinical study evaluated the success of two different splint materials bonded on periodontally treated mobile teeth.
Methods: A total of 14 patients were included in the study. Patients were randomly assigned to the groups to receive either with or wire composite splint (WCS) or fiber-reinforced composite splint (FCS). Clinical periodontal parameters were performed and periotest values were recorded at baseline, and after 6 and 12 months. Patients were asked to complete a self-administered questionnaire after the splinting procedures. Failure types for the splints were categorized.
Results: Baseline PI values showed significant decrease at 6 month follow up in the WCS (p=0.0019) and FCS (p<0.0001) groups and remained stable after 12 months (WCS; p=0.36, FCS; p=0.63). During the course of the study, PD and RD values exhibited no change between and within groups. Clinical parameters including PD, RD, PI and BOP were stable at 6 and 12 months follow-up period. In 6 patients (4 FCS, 2 WCS), reparable failures occurred during the observation period. In four patients (3 FCS, 1 WCS) splints failed completely and were removed. The periotest values of the failing teeth ranged between 47.3 and 50. In 3 patients in the WCS and 1 patient in the FCS group, periotest values were ? 40 but no splint failures were observed.
Conclusion: FCS tends to show increased mechanical limitations compared to WCS. Teeth with periotest values above 40 may be more prone to splint failures independent of the splint material.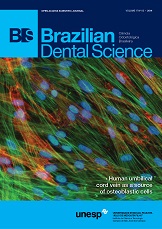 Downloads
Section
Clinical or Laboratorial Research Manuscript