Sensibilidade "in vitro" de Enterobacteriaceae e Pseudomonadaceae isoladas da cavidade bucal humana a agentes antimicrobianos
Abstract
Bactérias das famílias Enterobacteriaceae e Pseudomonadaceae podem atuar como agravantes de alguns tipos de doenças periodontais. Além disso, a cavidade bucal pode servir como reservatório destes microrganismaos, o que apresenta importância, principalmente em indivíduos debilitados ou imunocomprometidos. Neste trabalho estudou-se a sensibilidade in vitro destes microrganismos, isolados da cavidade bucal de 51 pacientes da clínica odontológica da Faculdade de Odontologia da Universidade de Taubaté, a dez agentes antimicrobianos enfatizando-se principalmente os mais utilizados na clínica odontológica.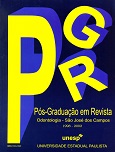 Downloads
Section
Clinical or Laboratorial Research Manuscript
License
COPYRIGHT TRANSFER AND RESPONSIBILITY STATEMENT
 (PDF | Word)
All manuscript's copyright ownership of the article "____________________________________________________________________" is transferred from the author(s) to the BRAZILIAN DENTAL SCIENCE, in the event the work is published. The manuscript has not been published elsewhere and that it has not been submitted simultaneously for publication elsewhere.
We hereby attest the study is original and does not present manipulated data, fraud or plagiarism. We made significant scientific contribution to the study and we are aware of the presented data and in agreement with the final version of the manuscript. We assume complete responsibility for the ethical aspects of the study.
This text must be printed and signed by all authors. The scanned version should be submitted as supplemental file during the submission process.