Prevalência das anomalias labiais e/ou palatais, entre pacientes que freqüentaram o centro de tratamento das deformidades labiopalatais da faculdade de odontologia, Campus de São José dos Campos - UNESP - 1991/1992
Abstract
O objetivo desta pesquisa foi de verificar a prevalência dos vários tipos de malformações labiais e/ou palatais, entre os pacientes fissurados do Centro de Tratamento de Deformidades Labiopalatais desta Faculdade, no período de 1991/1992. A amostra foi constituída de 53 pacientes, 31 homens (58,5%) e 22 mulheres (41,5%), os quais pertenciam à faixa etária de três a sessenta anos de idade. Foi preenchida uma ficha clínica (anamnese) e realizados exames clínico e radiográficos intra bucal (oclusal) e extra bucal (panorâmico). As fissuras labiais (FL) foram observadas em 26,4% dos pacientes, as fissuras palatais (FP) em 5,6% e as fissuras labiopalatais FLP) em 68,%.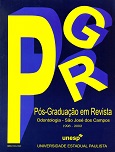 Downloads
Section
Clinical or Laboratorial Research Manuscript
License
COPYRIGHT TRANSFER AND RESPONSIBILITY STATEMENT
 (PDF | Word)
All manuscript's copyright ownership of the article "____________________________________________________________________" is transferred from the author(s) to the BRAZILIAN DENTAL SCIENCE, in the event the work is published. The manuscript has not been published elsewhere and that it has not been submitted simultaneously for publication elsewhere.
We hereby attest the study is original and does not present manipulated data, fraud or plagiarism. We made significant scientific contribution to the study and we are aware of the presented data and in agreement with the final version of the manuscript. We assume complete responsibility for the ethical aspects of the study.
This text must be printed and signed by all authors. The scanned version should be submitted as supplemental file during the submission process.