Avaliação, por microscopia eletrônica de varredura, da interface de uma liga de NiCr e dois sistemas estéticos: polímero de vidro e cerômero
Abstract
É freqüente, em coroas metaloplásticas a infiltração entre material estético e meta1. Seria desejável que a interface entre material estético e metal fosse nula ou mínima. A proposta deste trabalho foi avaliar a interface entre uma liga metálica (NiCr/Durabond MS) e dois sistemas estéticos: um cerômero (Targis/ Ivoclar) e um polímero de vidro (Artglass/ Kulzer). Vinte corpos-de-prova foram obtidos em um laboratório comercial e divididos em dois grupos, com e sem retenção mecânica. Os corpos-de-prova tinham forma côncava e foram obtidos pelo método de injeção de cera em molde de silicone. Após as fundições, foram jateados com óxido de alumínio 320mm, e então, procedeu-se a aplicação do sistema de adesão química para cada grupo, conforme preconizado pelos fabricantes. Os materiais estéticos foram inseridos e estocados, em água destilada, por uma semana. As amostras foram termocicladas, em máquina própria, com 600 ciclos e banhos de 5°C e 55°C. A interface foi medida através da microscopia eletrônica de varredura (MEV, 4000 vezes). Após análise estatística, os resultados indicaram uma média para fenda de 12,63mm para o grupo com sistema de retenção químico e de 9,64mm para o grupo com sistema de retenção mecânico-químico. Ainda, com relação à fenda, o cerômero apresentou melhores resultados quando comparado ao polímero de vidro.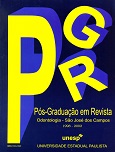 Downloads
Section
Clinical or Laboratorial Research Manuscript
License
COPYRIGHT TRANSFER AND RESPONSIBILITY STATEMENT
 (PDF | Word)
All manuscript's copyright ownership of the article "____________________________________________________________________" is transferred from the author(s) to the BRAZILIAN DENTAL SCIENCE, in the event the work is published. The manuscript has not been published elsewhere and that it has not been submitted simultaneously for publication elsewhere.
We hereby attest the study is original and does not present manipulated data, fraud or plagiarism. We made significant scientific contribution to the study and we are aware of the presented data and in agreement with the final version of the manuscript. We assume complete responsibility for the ethical aspects of the study.
This text must be printed and signed by all authors. The scanned version should be submitted as supplemental file during the submission process.